Free stuff from dump and mosaic wip
concretenprimroses
(4B NH)
July 29, 2011
A friend of mine finds great stuff at her dump. The town has a lot of wealthy people who don't want to be bothered with old things, but fortunately the dump has a little house (literally a little house/cabin with windows and a door) for usable items for the taking!
She thought of me when she saw these dishes which I put on the little cement table I made last year while I decide what to do with them. She also got me about a dozen jello molds (no pics)to make concrete shapes in, a few of which were so nice that I passed them on to a friend who collects the copper colored ones.
And here is my current mosaic work in progress, sitting on a lazy susan for easy turning. I was using this clay pot upsidedown on my porch as a plant stand. I am using thinset to apply the glass, but I don't trust the cheap clay pot ($12 at Biglots) out for winter, so I will keep it as a plant stand on my porch.
My concept is a luna moth on a tree trunk, and on the back of the tree a little birch tree grows. I'm going to mosaic a saucer and attach it to the top, not sure how that will fit with the theme, maybe just cover it with leaves.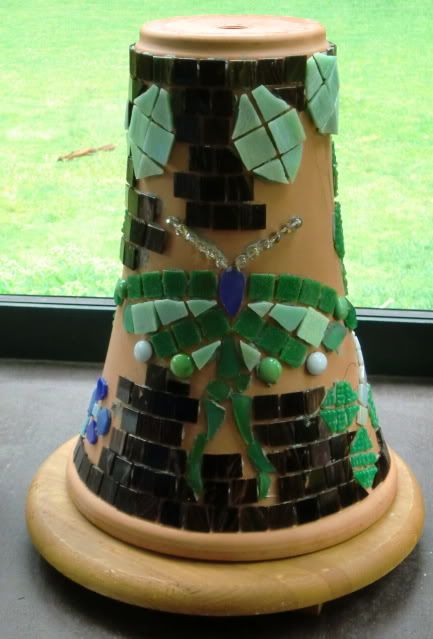 Filling in the brown is pretty tedious, especially since I'm using thinset. Trickier with little pieces than glue.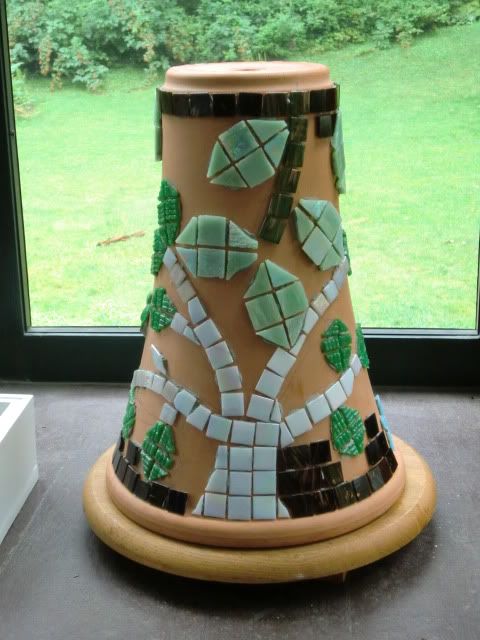 Thanks for looking.
Kathy