Maranta at Death's door - help!
thinwhiteduke
December 28, 2013
I purchased a maranta (prayer plant) from my local supermarket a few months ago, because I liked the leaves. I knew knowing nothing at all about this type of plant beforehand and now regret my rashness because despite all my efforts, it is dying - pls see photo.
It hasnt 'prayed' in weeks and has lost several leaves - they yellow and die. Other leaves curl up and some have brown tips. I've read up extensively online about their requirements but still cant seem to help. Am hoping an expert will be able to tell from the photos what's wrong...! What I'm doing:
- keeping it upstairs where the temp ranges from 15 ceclius at night to 23 celcius in the day.
- keeping it on a bed of stones filled with water for humidity
- misting daily with lukewarm water
- watering 1-2 times a week, just as soil begins to dry (using bottled water)
- keeping it out of any direct sunlight. It gets indirect light during the day from a skylight the other side of the room.
I did repot it when I first got it and probably now have it in a pot that is too deep/large (it's about 7 inches tall). Should I return to original pot??
I am fairly sure she's pest-free but havent dared look at the roots yet - could there be a root infestation behind this?
It's really frustrating that so many websites contradict each other as to the problem - some suggest it's too much water, some say too little, some say it's too much light, some not enough.... argh! Advice gratefully received before I end up killing the poor thing...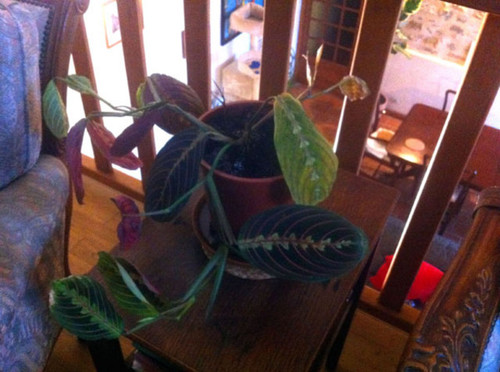 This post was edited by thinwhiteduke on Sat, Dec 28, 13 at 5:10