I was supposed to stop yard sailing...
concretenprimroses
(4B NH)
July 30, 2011
Well, I got the shade for $1, too big for the lamp I'm going to mosaic but I'll use it for something. The little dishes 25 cents each will be great for plate flowers, the pink one is a little flower, I should have taken the tag off the middle before photoing. $1 for the metal mag. rack which I think I'll use for glass.
But here are the best things from a yard sale accross the street at the home of a gardener, and as I discovered when he let me look in his yard an incredible garden junker. I hope to post pics sometime cuz he said I could come back and bring friends.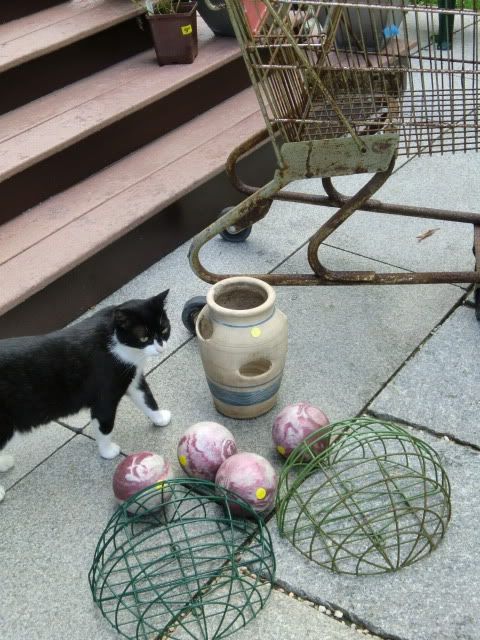 Four candlepin bowling balls for 25 cents each; 4 quarter round wire baskets for $1 each, which I plan to use to make a succulent sphere! (I put 2 and 2 together, which may be how I start the process). And a strawberry pot for $5. Dd would like some strawberries on her tiny deck. Zorro is there for sizing. In the back ground is my Kings Dept. Store shopping cart which I use to bring mosaic stuff to my friend Susan's house on Tuesday mornings. Dh finally took the stuff he was storing out and let me have it. I'm going to derust and paint it a spring green.
I need to have my own yard sale really.
Kathy