Hosery for hollyhocks
concretenprimroses
(4B NH)
July 11, 2010
Well here is why I had to stake up my holly hocks which I have big clumps of in two beds!
And the garden junk part is in a few places I used my no-good hose. I put two sturdy garden sticks (skinny bamboo or other), and put the hose over them with hose running between. Not sure if its really a valuable hint, but it did make an easy cross piece to keep the stalks in place. Here is the hose "trellis" with one of my red with white edges hollyhock. Love this flower!
The bottom of the windows are 5 feet or a bit more from the ground so you can see the tallest ones are 7 or 8 feet tall and still going upward!
I love the pinks too, which open after the reds and the white edged reds. This is in what is supposed to be the vegetable garden. I don't know what I did to dh's camera. It looks l
ike the house 2doors down is right next to the fence! It is not.
Finally the views from the dining room, and what the kitties see when they nap: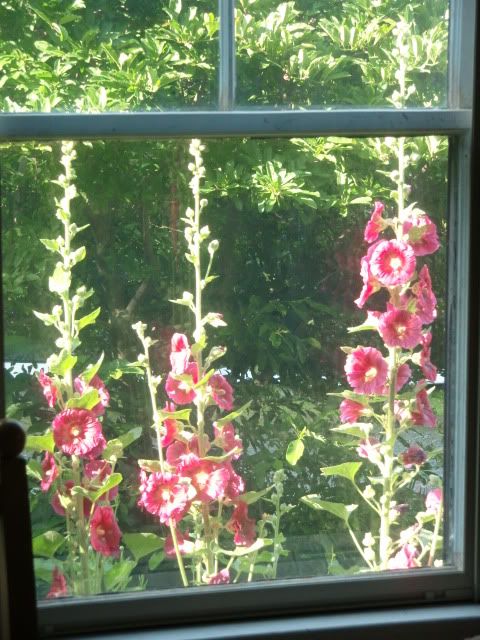 Kathy