Silverware Dragonfly from the 'Art Sail'
jeannespines
July 24, 2011
A couple retired friends & I had fun yesterday at an 'Art Sail' festival in Clear Lake, IA...75 juried artists had works there right at the city park on the lake shore. Hot day but well worth it!
So, for you 'welders' out there...here's a pretty cool silverware 'Dragonfly' that I bought & added to my gardens. I don't weld so I pay the price...thought you might enjoy: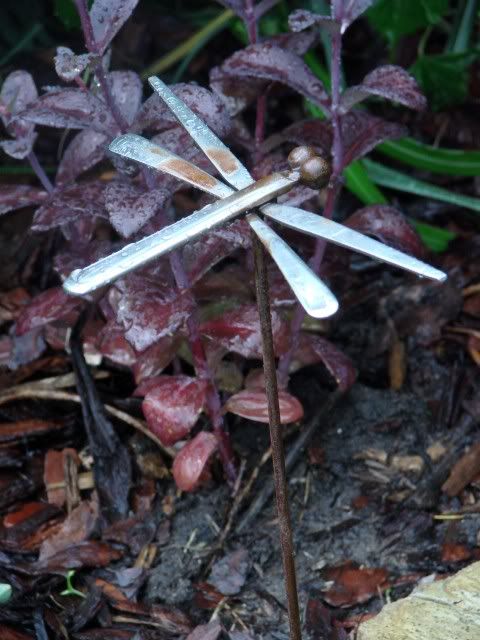 Here's a close-up view...pretty cool, uh?
And here it is in my gardens...the concrete leaf waterer (with horseshoe handles) was a purchase about 8 yrs ago from a shop out in the countryside. I turn it upside down in the winter. The welded 'palm' looking leaves I bought last yr (or so) from the same countryside artist who made the leaf waterer...he does lots of welded sculptures & uses alot of 'junk' in them, too...I love these!
And the heat wave is starting to ease off a bit...we got some rain for a couple days now ...but it took a tow on the gardens...I love 'rust' so this White Coneflower still looks beautiful (rusted tho) with the iron Sunshine on my old barn door in the gardens: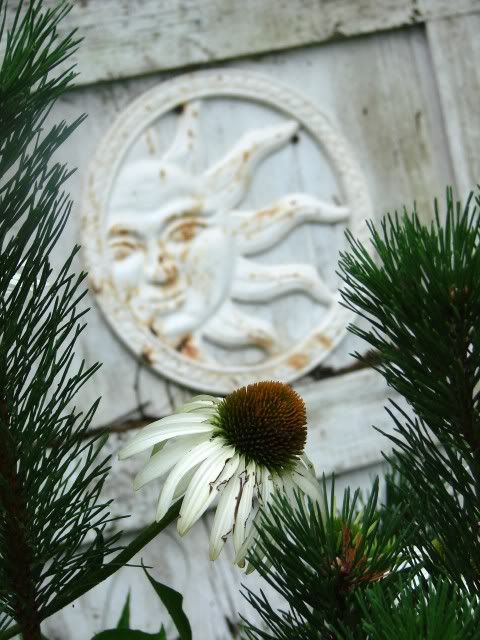 TFLookin'! Jeanne S.