Am Back w/ Happy little blooms
pirate_girl
(Zone7 NYC)
December 30, 2012
Here's a bit that's blooming for now, should go on for a while.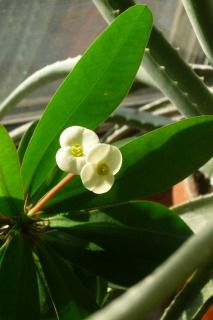 Not that impressive 'til I tell you this cutting is 18 months old & is currently sitting on a heated radiator in front of a cold window & it's 30 degrees outside.
Such a cutie
Planted in fast draining mix in the styrofoam cup (w/ holes) it came in. Tough little thing!!