Here It Is! My Finished Potting Bench!
Well, I finished my rustic, potting bench last night! It was sooo much fun to make. My family and I spent the day going to thrift stores in the small towns north of us! So much fun! At the same time, I've been anxious to get home and post pictures! :o)
Our neighbors gifted us with a work bench when they recently moved away. I added old doors ($5 a piece from a salvage yard) to the back along with iron pieces I had collected from thrift stores. I inserted an old, enamelware pan for the "sink"...the pan was $1 at a garage sale because it was rusty. I love rust! :o) The stain was free!
I added an old wooden ladder piece to the back for support. I used the ladder rungs for towel bars on the side. (The ladder was on a curb with a sign that said "Free". I made the rest into a trellis awhile back.) I added rustic hooks for tools on the side but need to collect more. The wood piece for the shelf was found in a free wood pile in the small town near us.
The potting bench is sitting in our driveway right now...it's sooo heavy! LOL I'll be moving it to our covered side porch when my brother can come out and help me move it! I hope you enjoy my new creation! I've always wanted a garden potting bench and have been planning this in my mind for years. Happy Gardening! BEAR HUGS! Kirk
BEFORE PICTURE with my little helper son...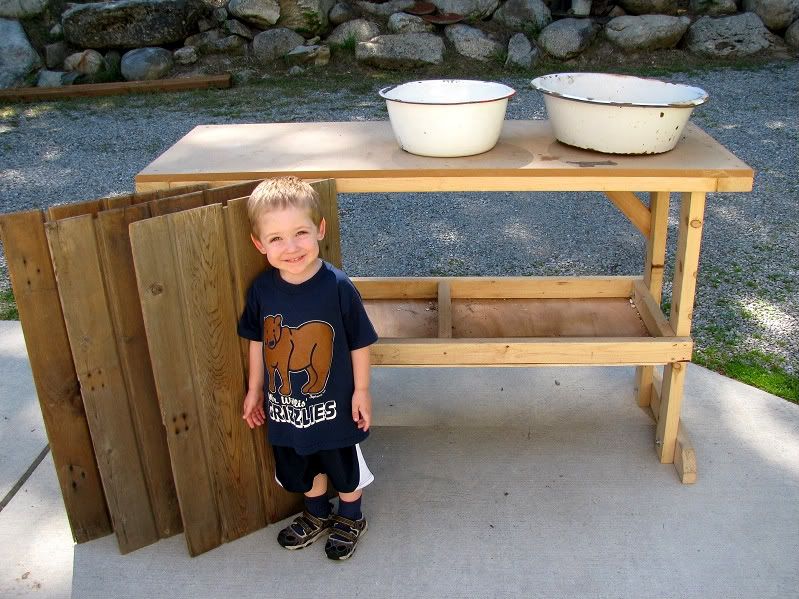 AFTER PICTURE...
Another AFTER PICTURE with a few of my garden/potting treasures on it... Can't wait to get the bench to the side porch!