Barnwood Blooms are bloomin' again!
jeannespines
July 29, 2012
We're in the severe drought area ...so I do water 'some' but can't water everything ... so am lookin' for 'drought-resistant' gardening! Here's a couple new Barnwood Blooms I made the last week or so: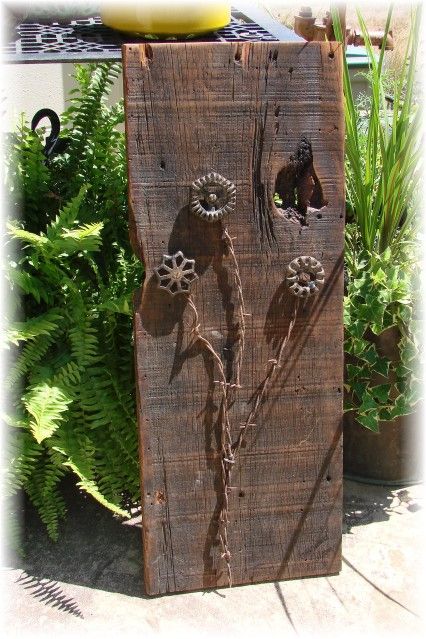 Chose a beautiful old barnwood board, gave it a coat of Poly ... added some GJ spigot handles that were thrift shop finds (in my stash...I'm always lookin'!), rusty barbed wire for the stems which I hammered on w/fence post staples & then used screws for flower centers. Added a couple eyelit hooks on the back w/wire...can stand alone or be hung up.
Closer view: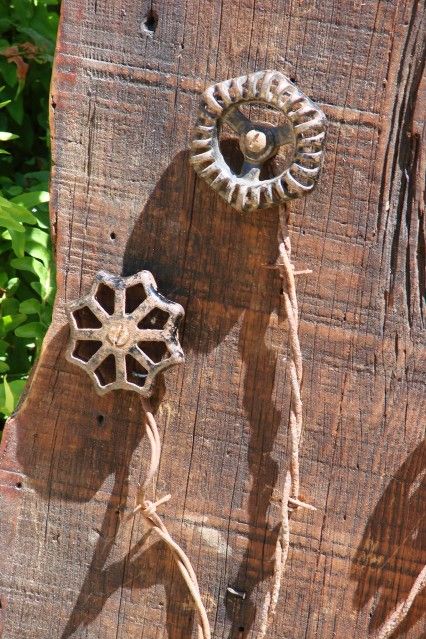 This one I needed DH's help...he used bolt cutters to cute a wrought iron tea candle holder I had in my 'stash' ... he cut all around it (in half...made each petal of my 'vision)...then I 'stapled' the recycled umbrella spokes for stems ... use meat grinder blades for flower centers & a tin garage sale butterfly. DH heated it up the butterfly (to change color) w/flame (think he was afraid I might burn down his shop!) LOL! Anyway, I love how it came out...
These 'Blooms' don't need any water! ;-) TFLookin'! Jeanne S.