Clear everything and start a new lawn
I bought this house last year and the yard is a disaster. I want to remove all stones, logs, mulch, weeds (there is no grass) from the yard , followed by grading as the yard is totally uneven, followed by laying new sod. As you can see from the picture the yard is full of weeds and old mulch.
My first question is that how do i get rid of weeds (which is all there is right now) ? I was wondering if i should till and rake ? I have read a lot of posts which are anti-tilling but i believe i need to do with as the grading is a bit off. Should i use roundup to kill the weeds before I till ? I have read a few posts that suggest such a sequence but i am not sure what is the point of killing everything with roundup if i am going to till anyways.
Secondly, I tried raking a part of the lawn (see URL below) and as you can see its a mix of old mulch and weeds. Is the old mulch usually removed or is it just mixed with the soil ? If the latter, i am not sure how will I separate the weeds from the mulch.
My wife and I are new to this but willing to put in a ton of time to have a beautiful lawn. Your guidance will be very much appreciated.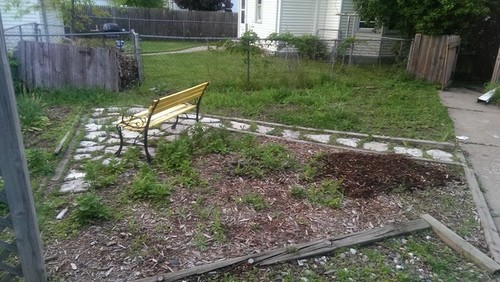 Here is a link that might be useful: Raked area