Barnwood Bloom Butterfly Flower
jeannespines
July 20, 2010
Some of you know that I love recycling barn wood & since I don't have a big board fence I use old barn doors & wood. Here's another "Barnwood Bloom" I made this past week: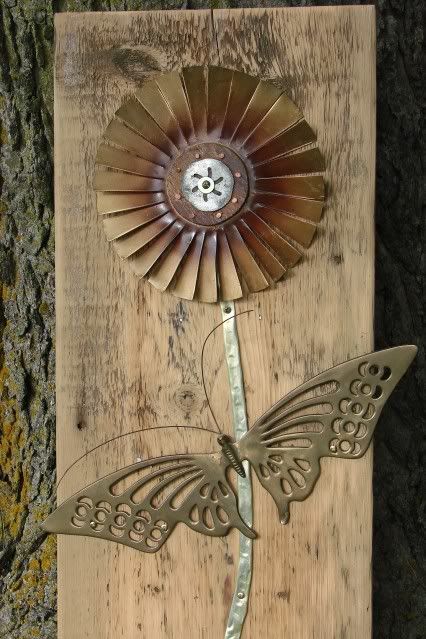 The flower is an old fan blade of some sort that I spray painted a couple shades...& the center is a cookie cutter blade...added some nails. The stem is an old curtain rod I flattened with hammer & screwed into place. And the leaves are a brass "butterfly" from GS'ing...I like to use them on my "Barnwood Blooms."
Added a couple eyehooks on back & wire...so can be hung or free-standing against a bldg. or something. Here's the full view in front of a tree:
Sometimes I take these to Farmer's Mrkt & other times they end up in my garden...so we shall see! I love old barnwood! My DH helps me find supplies, too! Jeanne S.