Please........Need Help identifying St. Augustine fungus or issue
Hi,
I'm hoping someone can look at these pictures and hear my story and maybe help me figure out what to do to save my lawn. I'm in Jacksonville Florida. Over the winter my lawn went dormant and went totally brown. As soon as spring rolled around it started coming back except that the area closer to the road was about 40% dollar weed and the grass was getting real thin in a couple of spots closer to the house. At this point, everything is green again accept that I have the dollar weed and the dead/brown area in the picture. the area seems to be getting bigger. The little bit a st. Augustine that is still growing there is very small, thin, and weak. The area is also completely flat. I did treat with some scott's turf builder weed and feed and that seems to have put a minor dent in the dollar weed but its coming back strong and the grass can't overtake it. I treated for chinch bugs with Talstar and I don't see any of them any more. I'm starting to think that the brown spot may be a fungus? I took these two pictures so you can see how nice the st. Augustine is still growing closer to the house....How I have the growing brown/dead spot....and the dollar weed problem closer to the street. The close up shows where Good St. Augustine meets the brown spot. You can see the runners just toasted. I did pull up some roots to see if they were black and they weren't. If it makes a difference, I haven't fertilized or added nitrogen or anything to the yard in a couple of years. I had a lawn service for a while and they did great but with a drop in income, the lawn service had to go.
If anyone can give me some advice I would greatly appreciate it. At this point I don't know what to do but go to the big home stores and buy some general fungicide to apply. I'm really hoping not to have to re-sod. Thanks in advance!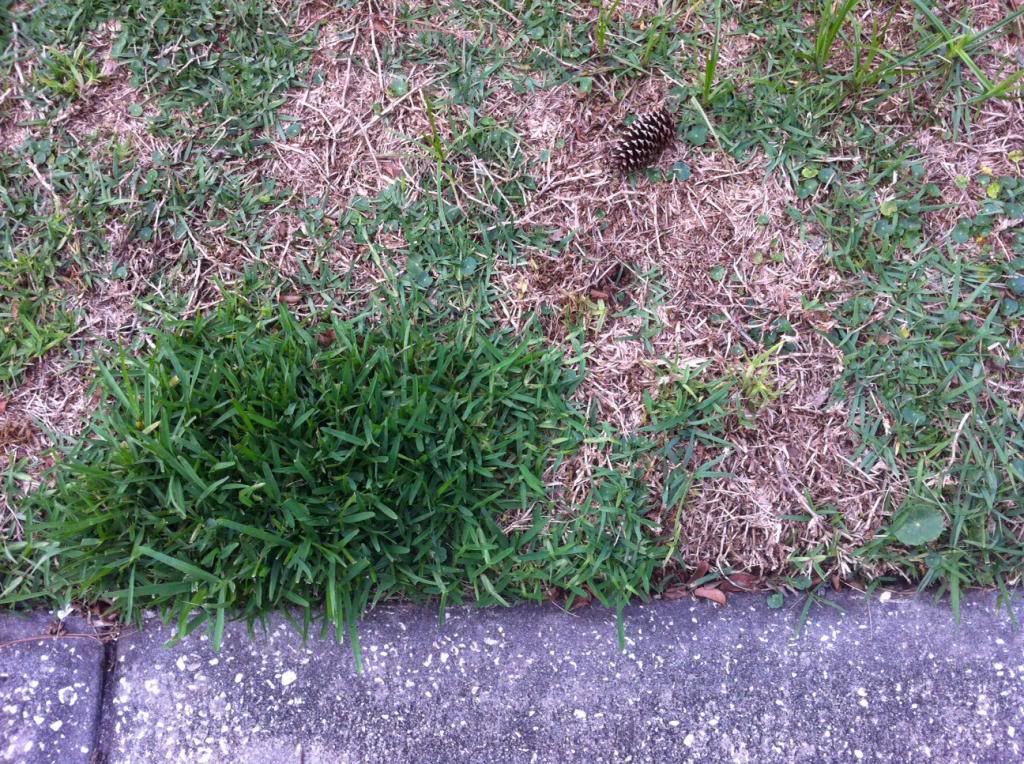 This post was edited by maroruben on Mon, May 13, 13 at 9:32