Barnwood Duplex Birdhouse + Some Wren Houses
jeannespines
August 20, 2010
Finished up some birdhouses today ... made again with mostly old barnwood + recycled wood. This one is a heavy duty "duplex" barnwood...divided in the center for 2 nesting spots. DH & I built this one tog...it's a big one & sitting on Hoosier cabinet for the pic. We created our own version from a pic I had torn out of a magazine:
The shutters are made from recycled oak TP holders that I got in a box of junk from a GS. I'm going to add some dried moss to the top faux hole yet.
Since the weather improved for a few days, we worked in the shop some & DH made 5 wren houses ...recycled barnwood & other woods, too...then I paint & decorate. Here's one I tried some "milk paint" on & then sprayed with Rusteoleum clear enamel...will see how it holds up: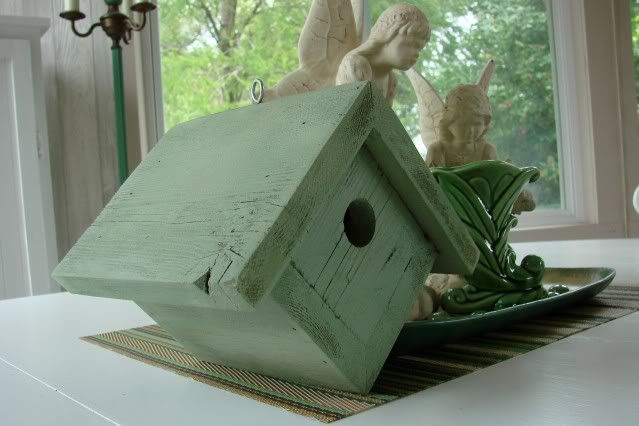 And this one I stained the recycled wood ... also added a couple pcs from picture frame ... & then this "gold heart" (necklace) that I got at a GS for 25 cts...I like how it turned out. The wrens love these size birdhouses ...& they usually clean them out themselves each yr.
Thanks for looking! Jeanne S.