My fairy garden...
cadillactaste
August 30, 2012
I made this back in July 2011. My friend had made one prior, which I had commented that I thought it cute. So while my son and husband were away on a mission trip. She took me to Amish Country where they had a shop with fairy garden items to make up your own or ones already done up. I fell in love with the bird planter with the Angel Ivy already in it. So I went with the "bird" theme and went from there.
While creating my fairy garden there...I had assembled it on the counter. Next thing I know another customer comes over and grabs my planter and goes to take it right out from under me! As she slid it closer to her on the counter. I was like..."EXCUUUUSSSE MEEEE!?! [but in a soft voice]" She was like..."I just LOVE this fairy garden!" I was like..."Well, thank you. So do I, thus why I assembled it to get a visual before taking it home." She was like..."Ohhhh you don't work here then." I was like..."Nope, sorry I don't this one I just made up for myself."
I love how the ivy drapes down over the planter.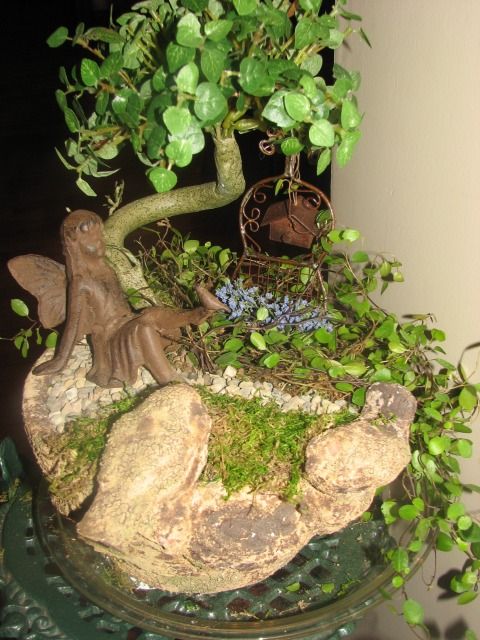 I got a faux tree at a craft store along with some purple flowers and just cut off the blooms and stuck them in the ground for some more color came later. I wanted a bonsai tree but the care for one didn't allow me to disrupt my ivy roots by removing a buried pot to soak the tree. This was the next best thing.