New Sod Lawn half brown after 4 days
I recently had a sod lawn installed this last monday (4 days ago). At the time of installation the sod was a nice deep green, the soil part of the sod was moist, and everything looked good and healthy. 4 days later have the Sod is not just brown, but looks like old dead dry hay.
The Details:
Sod type: Rhizomatous Tall Fescue
Soil Prep: Area was tilled and graded. 1 inch of good top soil was added on top. A lite amount of starter fertilizer was added on top before sod installation.
Installation: The Sod was installed in 1 day, during a slightly overcast day with sporadic light sprinkling of rain, after sod was all laid down the sprinkers were left to run for about an hour or so and the Sod was rolled at a 45 degree angle to the direction the strips were running.
Watering: I Was told to water the Sod 2x a day for 15-20 minutes at a time. 3x a day on days it was going to be over 80 degree F outside. It has been in the mid 80's all week, so i was instructed to water at 6am, 11am, and 2pm for 15 minutes in each zone. Which I have been doing.
Current condition of the sod: *Despite half the lawn looking like its becoming dried hay, from what im reading its getting the right amount of water. If I lift a corner of the sod up, the soil connected to the sod is wet/moist but not a muddy mess, the soil under the sod is wet/moist, There is no standing water in the yard, but the soil is wet enough it feels like your stepping on a soaked carpet if you were to walk on it (I know this cause there is a small section i have to walk over to reach my sprinkler valves (timer not setup yet.))
Attached are a few pictures. If anyone could give me some pointers or tell me if anything im doing/did sound wrong let me know. I have heard of some types of Sod going through a "shock" period the first week or two, so im hoping thats all this is.
David.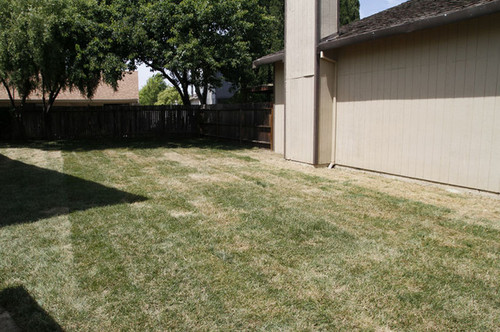 This post was edited by Dpayne on Fri, May 2, 14 at 22:46