Blue Bottle Fence Project 8.10
jeannespines
August 25, 2010
I've been wanting to do something in my gardens with blue bottles ... love all the bottle trees & ideas shared on this forum! Been mulling this over all summer & decided to try a few blue bottles near this grape/vine window that my friend painted for me & has been up for 2 yrs. now outside yr around:
My potting shed is also in this area...latex outdoor paint didn't hold up very well (2 yrs outside)...so I powerwashed it today with DH's help & will try some oil base paint on it...table & door were salvaged & very old: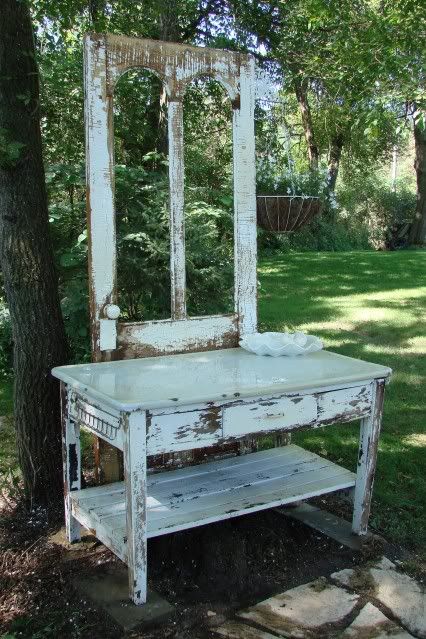 Today I painted a metal barrel & drug it over by my blue bottle fence & put my patio Fern on top of it...looks pretty good there cause area is bare of flowers...here's the blue bottle fence: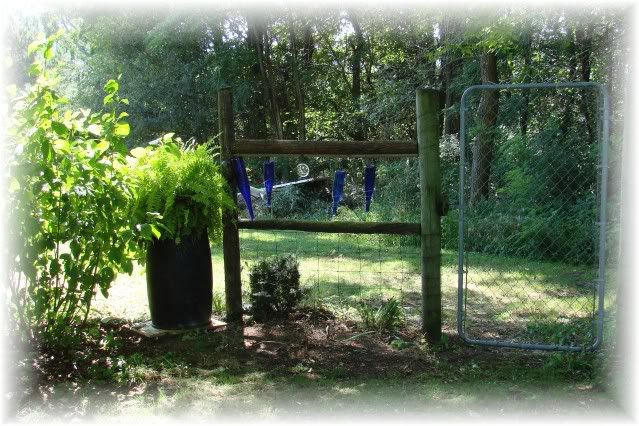 DH & I tried several gauges of wire & we bought these straight rods & he bent them for me for around the bottles...here's a close-up. The wires are stuck thru a drilled hole in a strip of wood, then bent over ...then strip of wood we screwed into the bottom of the horizontal fence post: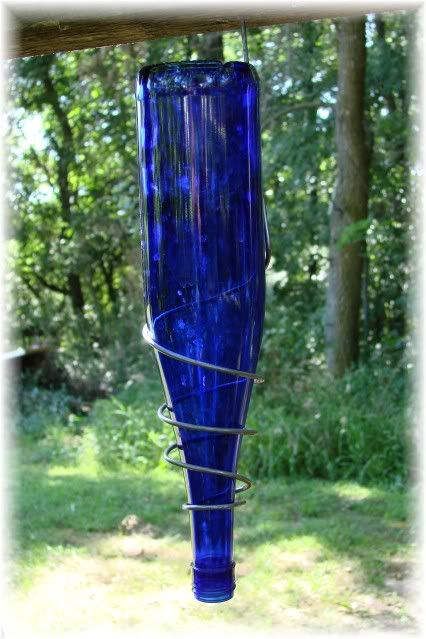 Here's another view...one empty wire...I need another bottle.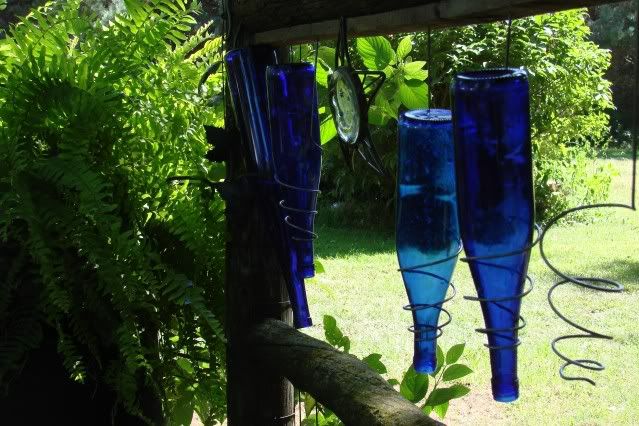 Here's a star with glass that I got at StVdePaul for $2...it was formerly a handle holder...cut off that part:
And this bottle, my fav, was too big to hang in the wire so I found this bottle rack with leaves that would hold 2 bottles of wine (right side up though)...so cut the bottom off it & used it to hold tall blue wine bottle (Germany one)...& bent the leaves around fence post area:
Ok, here's the whole works...I'll keep working on it some & share another pic when potting bench is re-painted...also I do have some grapevine that's coming along nicely on the right side of the painted window.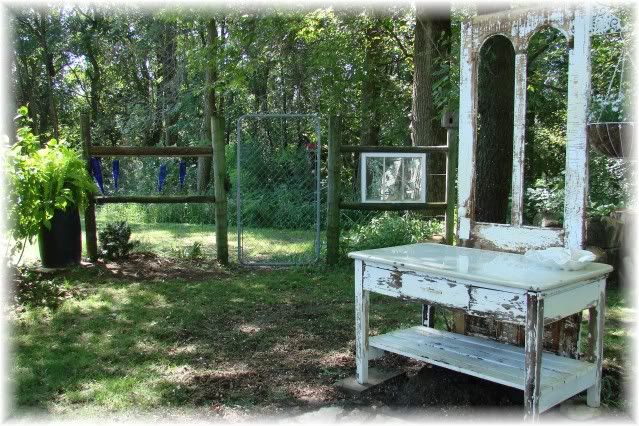 Hope you enjoyed my version of using blue bottles in my gardens! Thanks for lookin'. Jeanne S.