A little Garden Junk + Old Garden Junk Evolving
jeannespines
August 21, 2011
Since DH & I took on a big project of re-siding our ranch style house, my GJ projects have suffered but wanted to share a few.
This is a 2 pc cement bird waterer I got from a friend who bought it at a sale for $20 (which I was happy to pay for!) ...it's honkin' heavy & it's out in my Secret Garden (my DH said to find the spot where I wanted it cause it won't be moved around! LOL! I am going to paint it & clean up the area around it a little...so I want to share this before pic:
I'm thinking of adding some of my cement mushrooms that DH & I have been making for Farmer's Mrkt around the base of it.
And while shopping at Menards garden clearance sale, I spotted this statue on the floor under a shelf...I'm a sucker for "reading" so this one of children called to me! I was pleasantly surprised to Google info on it & I got a real bargain! The tag attached said "Henri Studio" & "quality cast stone for garden decor, 5-yr warranty." Here it is in my Secret Garden by my swing in the pines: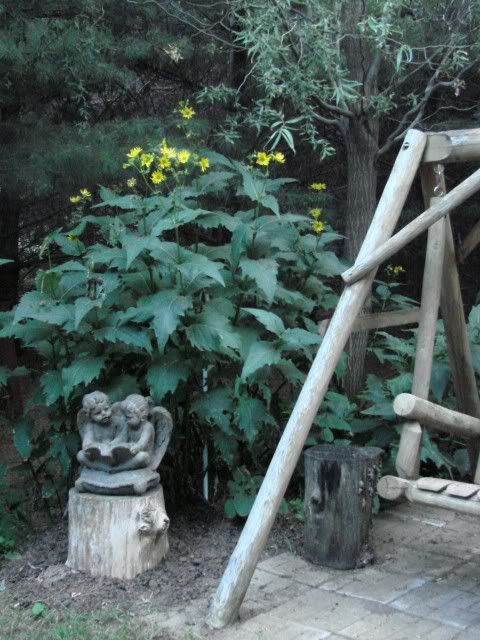 I dug the old log into the ground a little bit...here's a close-up...sweet angels, uh?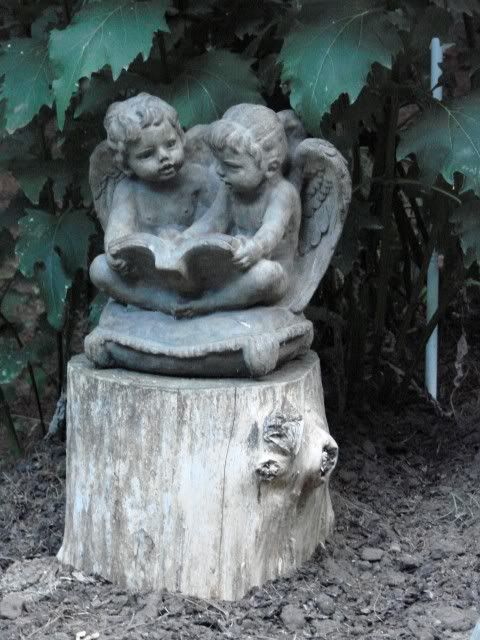 While sitting in that swing the other evening I spotted something in this birdhouse & had to go get DH to investigate it (thought it may be a bat ...but it wasn't!)
I posted this birdhse a few yrs ago...I used a light fixture for the front decor & the holes are small...so I was delighted that something had used it for a home!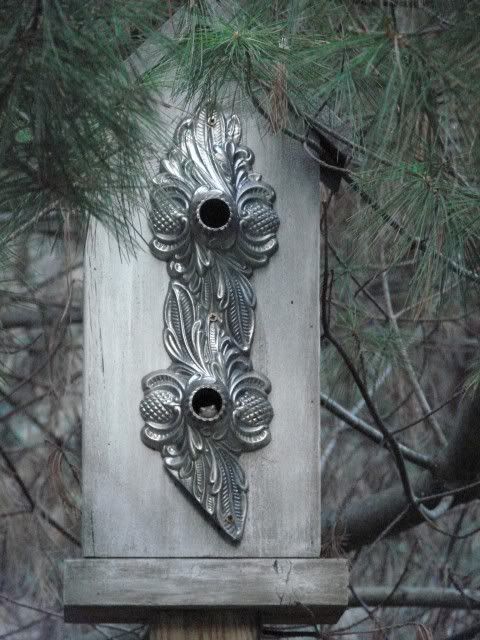 Here's a close-up:
It's a TREE FROG!!! So darn cute!
And last of all, I want to share my Tipsy Buckets again...all this JULY heat did in alot of my gardens...but this one perservered! The Blue Lobelia I had in with the Dusty Miller did not make it, however...but the Trailing Petunias....WONDERFUL!: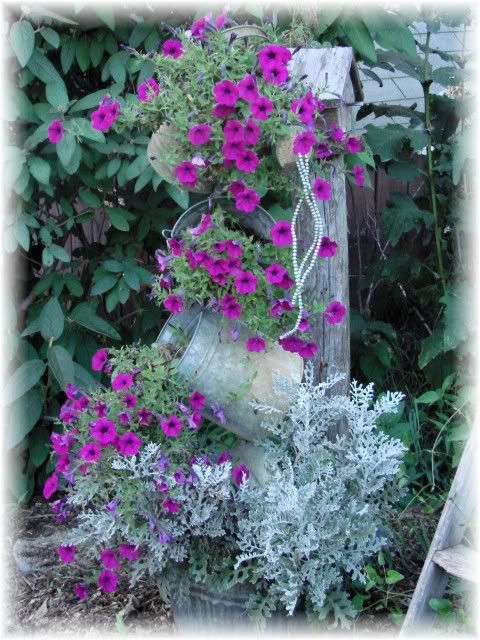 Hope to be sharing more...siding project almost done...but the flower beds have been trampled on all summer...so I'm working on cleaning those ups ...& some more painting to finish...summer not over yet...hopefully, more GJ to come! Jeanne S.