Recent Flea Market Finds in the Gardens
jeannespines
August 31, 2012
DH & I went to a great FMrkt a couple weekends ago & I got these great BIG iron wheels & a rusty old funnel...that same day my SIL delivered these 3 old tall doors that used to be his garage doors in an old house. Wow, a GREAT GJ day!
Got some clearance plants @ Lowes the other day ... added 3 @ 40 cts each of "Mexican Heather." The funnel planter idea is copied from a friend on the Internet ... 'S' hooks, old chain & a bigger 'S' hook for hanging ...I love it!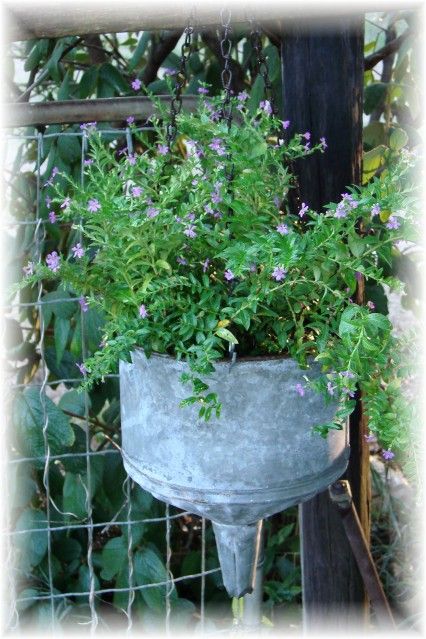 Here's the Tipsy Buckets/Garden Gate vignette where I hung it (now I want an old rusty wheelbarrow in that area ...the galvanized tub on legs gets moved to bird feed area in the Winter mos...so this isn't it's permanent home:
One of the wheels is against the garden shed
& the other I put out in the Secret Garden @ the 'Shroom birdbath:
The doors ...ummm...dont' know what project yet. TFLookin'! Jeanne S.