Plate flower garden plus forum use suggestion
concretenprimroses
(4B NH)
September 22, 2010
After my hollyhocks went by and I cut down the stalks, this garden was so bare that I decided to put all my plate flowers in it. Some of my friends have seen them recently and now they want to come over and learn how to make plate flowers and totems! Can't wait! Some of these are too plain and I want to decorate them more, but don't they look good all together?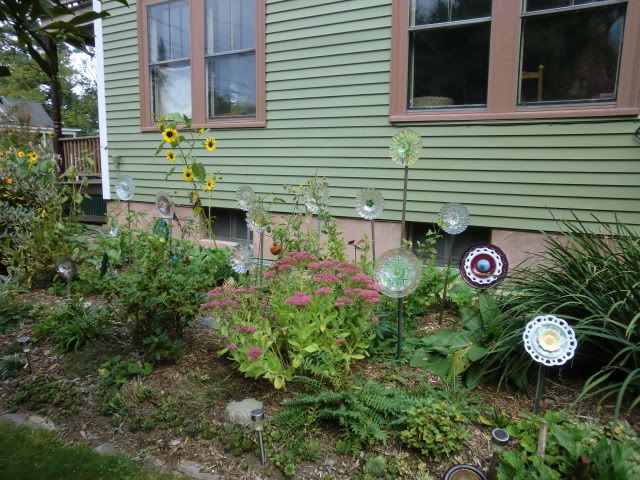 and from the other angle: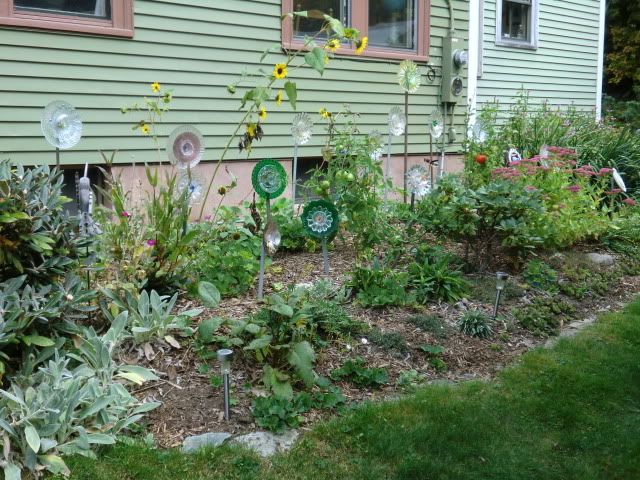 My suggestion about the forum is that when one of us creates a thread and has several pictures on the same subject within the same day or 2 that the creator of the original thread posts them in the same thread rather than creating a new one on the same subject. The reason for this is that the old threads get dropped off. Just a certain number remain at any time. I just looked at the last page, and the posts are only a little over a year old! I bumped a couple of them up. Please correct me if I'm wrong, but I think we will retain more of the good stuff longer if we are more conservative in our thread creation. I remember looking at lots of wonderful things that are now not available when I first joined. Thank goodness Karen/Purplemoon created the inspiration album, that helps.
Kathy
ps to post again in the same thread, you have to change the subject name or it may be rejected. For example, if someone asked me for a close up of a certain flower, or if I just wanted to show more, I could post it in this same thread and change the subject to "closeup" or whatever. Or if I decorate some of them today or tomorrow, as is my plan, I could just post them here in this thread.