Honda HRR216VKA
I usually do more reading than posting here, but wanted to talk about my new Honda HRR216VKA I purchased today. I had been using a John Deere JS46, but just grew tired of the 100+ lbs and having to stop every 10 minutes to clean out the deck.
I don't know what it was about the JD, but it must be a deck design issue that causes it to clog up so much. I mow high, 3-4", and no matter if I side discharged or mulched, it would pack up tight. Our home is a new construction in a new subdivision, the lots all drain very nicely, so wet grass isn't the issue.
Anyhow, I finally decided to bite the bullet today and buy the Honda. Got it home this afternoon, got it all set up, and went for a trial run to make sure I had my deck set where I wanted it. All I can say is WOW! The guy at The Home Depot told me if I didn't love the Honda to come tell him why because he wanted to know. Well, that won't be happening. After mowing all my yard this evening, I had my son tilt the mower back so I could look under it, and there was nothing. Literally nothing caked underneath. All there was was grass stain which is to be expected.
I mulched the entire yard with the exception of a couple of rounds of rear discharging (which did well too), and it did a fine job. Makes me wonder why I didn't buy a Honda 20 years ago rather than mess around with the multitudes of pushers I've owned.
I don't work for Honda, just a very satisfied customer right out of the gate, and wanted to share my initial experience with my first Honda mower.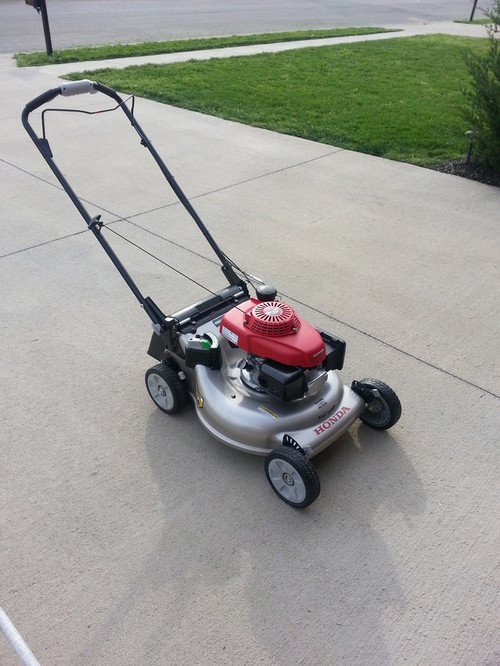 This post was edited by Tom6545 on Thu, May 2, 13 at 20:00