Help! Brown lawn!
void_pointer
June 29, 2014
Hey everyone,
I just joined the community. I'm a first time home owner here in North Dallas, TX. I'm starting to find myself caring more and more about my lawn. I've never had one before, so I'm really clueless about anything that doesn't involve just pushing a mower around :)
First, here are a few pictures of my lawn. I apologize that I did not attach them directly. It appears I can only attach 1 photo but I had a few more. I created an album on Google+ for the rest of them here:
https://plus.google.com/photos/111496994675344629656/albums/6030408971042349137?authkey=CKHPqfjBh8ikxQE
I just got done mowing and then took these photos.
When I moved into this house, the lawn looked pretty patchy/brown already. Previous owner was using a company called GroGreen to keep the lawn maintained (fertilizing and weed killing). I'd rather do all of that myself starting out to save money, so I haven't been using them.
I water 1 time a week (city is starting to only allow 1 watering every 2 weeks now) for about 20 minutes in the back and 40 minutes in the front, but we've been getting a lot of rain the past two weeks or so as well.
Anyone know why the lawn looks so terrible? I expected it to be really green and thick, but it's not. I also think this is bermuda grass (based on pictures I saw online), but I'm not sure what flavor of it. Any lawn care advice for this newbie is much appreciated! Thanks for the opportunity to join the experts in this community.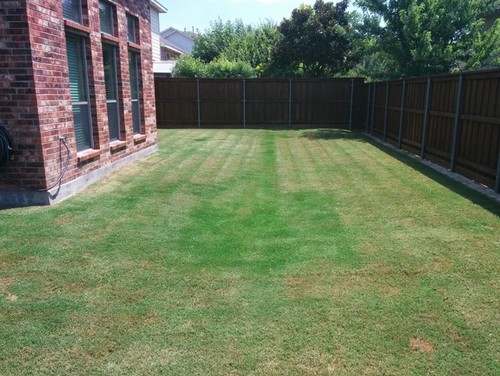 This post was edited by void.pointer on Sun, Jun 29, 14 at 13:59