Flowerpot Made From Rain Boots
spedigrees z4VT
September 23, 2013
This past spring I purchased a pair of mud boots with a pretty design from an online catalogue. Unfortunately they proved to be much smaller than the size they claimed to be, and the online reviews confirmed that they ran several sizes too small. Thus I exchanged them for two sizes larger, to find that they fit my feet but constricted my legs (and I do *not* have fat legs!)
After getting over my aggravation with this company, I decided to make lemonade out of lemons. I cut off the tops of the boots and used these and an empty plastic wide-mouthed jar to make a decorative flower pot, leaving me with a pair of shorty boots that fit well.
I planted nasturtiums in the flowerpot. Should have snapped a picture but didn't think of it until after the frost nipped them and it was too late. Still substandard in quality, the boot top on the flowerpot had faded from the sun to the point where the bright colors were nearly white. Fortunately I have another boot top for next year.
Don't buy these boots whatever you do!! But if you already have, here's a good way to make the best of a bad purchase! LOL!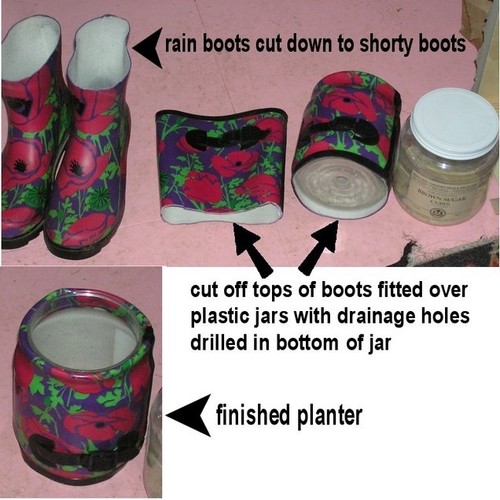 This post was edited by spedigrees on Thu, Sep 26, 13 at 12:37