Replacing a sheared flywheel key on a small Briggs engine
baymee
(LehighValleyPA)
June 26, 2010
The customer drops off a lawnmower with a tag that says "The motor stopped and couldnÂt restart". I pull on the starter rope and I hear a scraping noise underneath. The first step is to see if the blade is bent.

The blade hub comes off at the same time.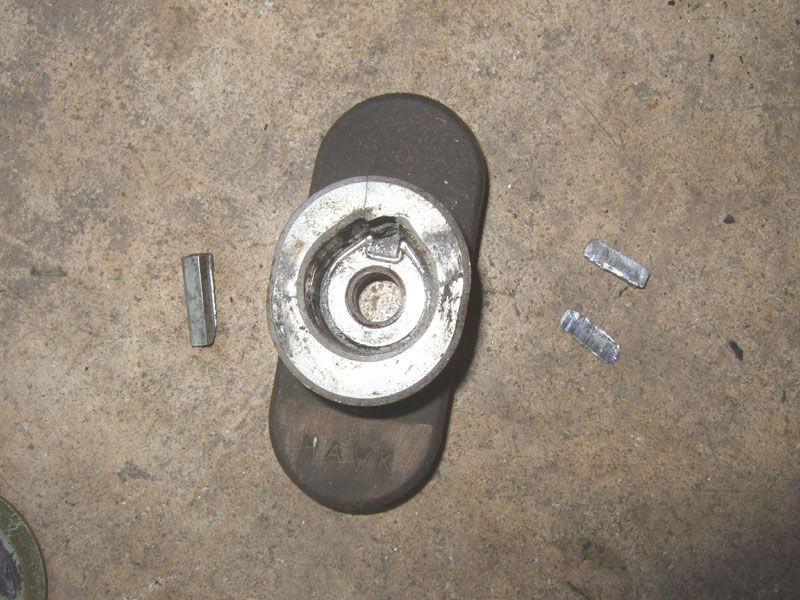 Since the blade is bent, along with a broken hub, and the motor wonÂt start, the usual culprit is the flywheel key being sheared. Unplug the spark plug wire. If you have electric start, disconnect the battery. The top dust cover is removed first, then the gas tank is emptied and removed. The oil fill tube mounting screw is removed and the fill tub is turned to the side, but still in place. The shroud is usually held in place with 4 bolts and after they are removed, lift the shroud straight up. At this point, youÂll have the flywheel in view.
ItÂs obvious that the key is broken. Sometimes a motor will still run when the flywheel is this far out of alignment and sometimes a motor will not run when it is only slightly out of alignment.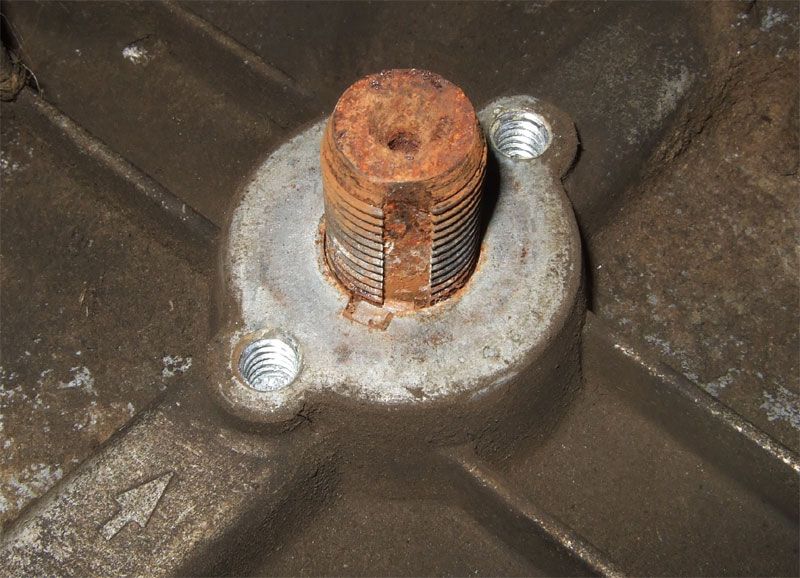 The flywheel puller tool requires that two bolts be screwed into the flywheel. This is difficult without the use of a ¼" X 20 tap, and the flywheel is first tapped. You need at least 3 threads for the bolt to engage securely.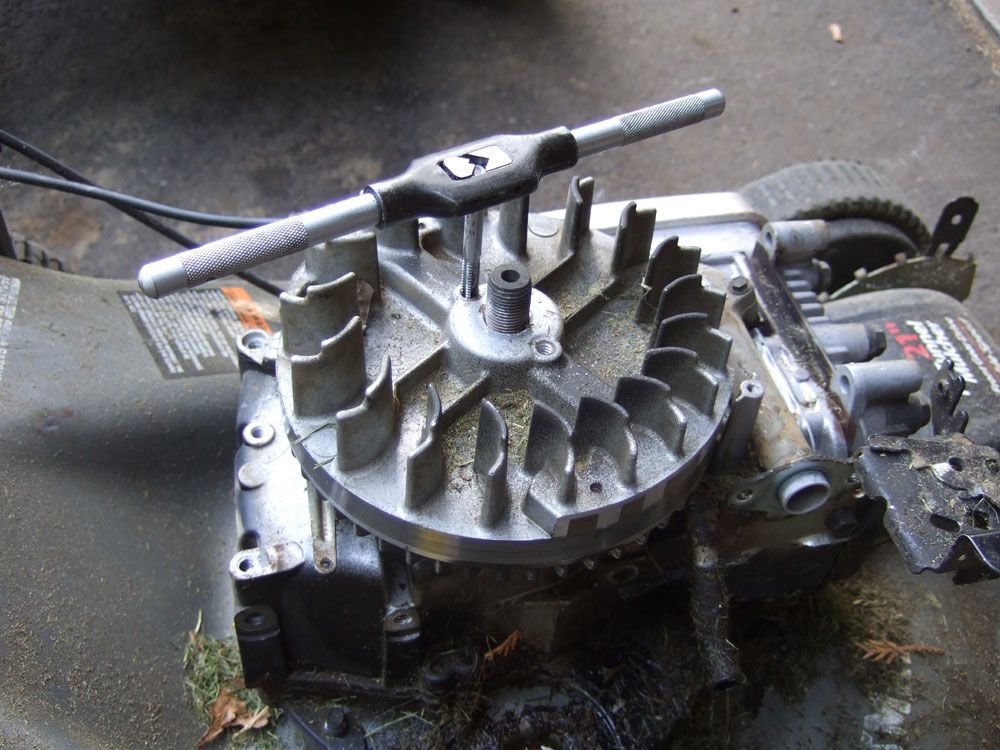 Install the tool. There is a nut above and below the heavy steel bar. Turn the bolt into the flywheel until it bottoms out. It isnÂt necessary to use the bottom nuts. Use a wrench to hold the bolt head and another wrench to turn the top nut down against the steel bar until it contacts. Do the same for the other bolt and nut. Alternate between the two nuts and turn the nut ¼ turn at a time until the flywheel pops off. When installing the new key, be careful that it doesnÂt fall out of the shaft groove when placing the flywheel back on.
You will need a suitable tool to hold the flywheel while you torque the center nut. I know that some will use a strong screwdriver to keep the flywheel stationary, but you might end up breaking one of the fins using that method. Sometimes the starter hub which goes between the nut and the flywheel has a tab on the bottom that engages a hole in the flywheel. If you torque to nut and the starter hub isnÂt flat against it, the flywheel will break while being torqued. Always refer to a manual for the proper torque spec. Total job time: Less than ½ hour.