Fall is in the air ... & the gardens!
jeannespines
September 22, 2011
Here's my old egg basket that I showed earlier this Spring...the sedum grew & the Hen & Chicks ...now I added some gourds/pumpkin from my garden:
This is what I call my "gr'pa's rake garden"...he used this old hay rake many yrs ago when farming...the Sweet Autumn Clematis is blooming like crazy (& smells so good when you walk out there):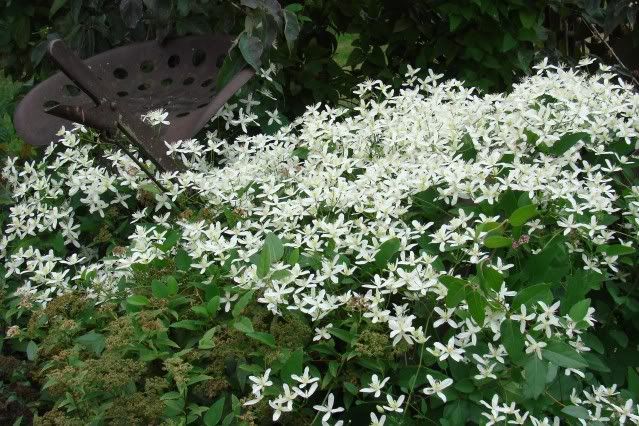 ...and the Clematis climbed right up the Plum tree planted in Grpa's Rake Garden..I also planted Cannas & Spirea bushes & black Hollyhocks...this garden did good this yr (w/hot weather even!)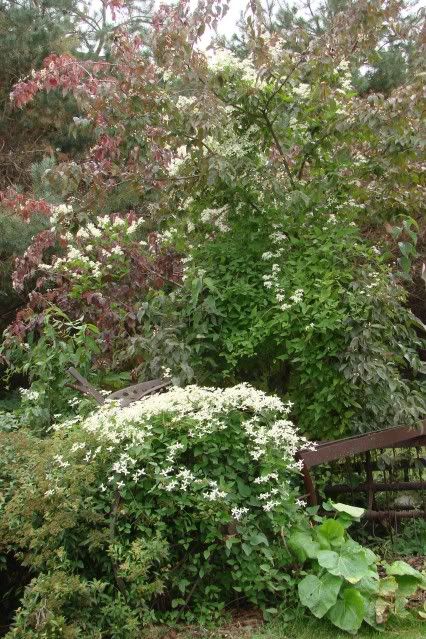 This old ladder I put right next to my Bucket Tipsy Pots which did terrific this yr, too (I showed an earlier this summer)...last yr I tried Hyacinth Beans & they did good on the ladder...but last Fall I planted another Sweet Autumn Clematis & it's coming along good ...old white teakettle is my watering can:
Here's the pic from Aug that I posted of the Tipsy Buckets...you can barely see the ladder leg bottom right: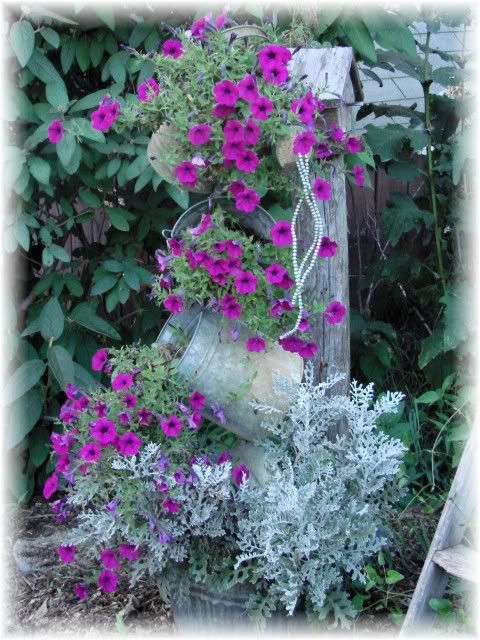 And the grasses...oh,they sure make a grand display when Fall is arriving! Here's one of my favs in the garden by the big old bell...windy & misty day yesterday when I took these pics:
So happy "1st day of Autumn" tomorrow! TFLookin'! Jeanne S.