Witch & Stars for My Gardens
jeannespines
September 25, 2010
Here's a witch I made some yrs back out of an "old barnwood"...broken off at the bottom, add a strip of wood across for a hat. some rafia for hair, abracadabra! ... this yr I "re-vibed" her a bit by adding a crow to the brim of her hat (thanks to a suggestion by a forum friend):
And here she is stuck in garden vignette by garage door ...with an old iron wheel & a couple gourds from the garden...will add pumpkin later:
Also, I added on to my "blue bottle fence" link (& that link got very long!)...thanks, luna, for commenting...here's a couple more pics in case you missed the lazer stars I added... DH opened his tackle box & used spinners & fishing line. The stars are metal & then torched blue by the seller...got them on a trip this Spring & think they are so cool.
Here you can see all 3 ... sunshining in these pics: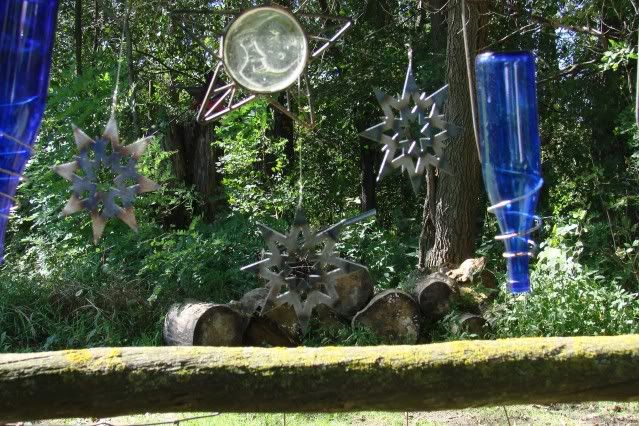 And, here's the whole area...I'll keep adding...yesterday pic when it drizzled:
Fall is here! Jeanne S.