My First Lawn!
Hi, I moved into my first house at the beginning of last month and am excited about keeping the lawn looking good. I have already made one post on the forum (link below) and have learned a lot from it and others I have read.
I have Bermuda sod and am about to jump into the steps in the Bermuda bible. So far, I have just been watering once a week at 1 inch and mowing once a week with my rotary mower at the second to lowest setting, which is too high. Tomorrow, I will mow at the lowest setting where it should stay. I have been looking at reel mowers, but am not ready to take the plunge yet.
Most of my sod has established itself, however some I am unsure of. Here is my front lawn. They just put in new sod next door along with a couple of trees and a third one to replace mine that died.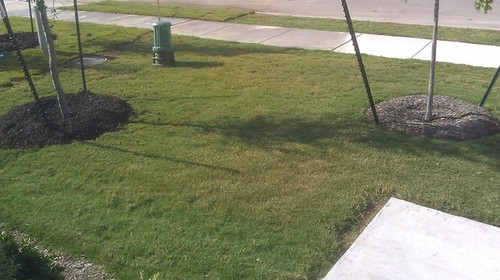 Here is a link that might be useful: Other Post