Baker's Rack finally decorated w/GJ for Fall!
jeannespines
October 23, 2011
Yesterday I spent a few hrs fixing up my Baker's Rack on porch patio for Fall. I used lots of my GJunk again! Cut some pine branches & a few Curly Willow...added my garden gourds & bought a $1 pumpkin at Market:
It is another beautiful day here today & I fixed up this box that DH made w/gourds on the 'grate' patio table: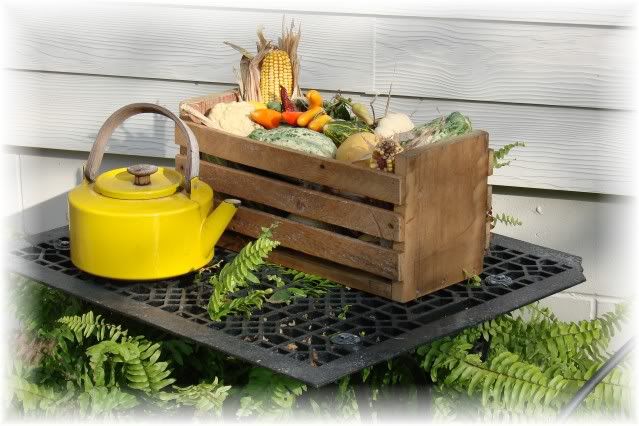 Here's the Baker's Rack top to bottom:
An old crock/jug from the Amana's here in IA ... GS find..
The metal star (a popular item around here for some yrs now)...it stays on my Baker's Rack all yr round...old blue canning jar I made a solar light cover from one of those 'stake solar lights' from big box stores...it's been out all summer on my patio table & works good! In the basket w/my garden gourds is old crock canning jar I bought a long time ago at a TS.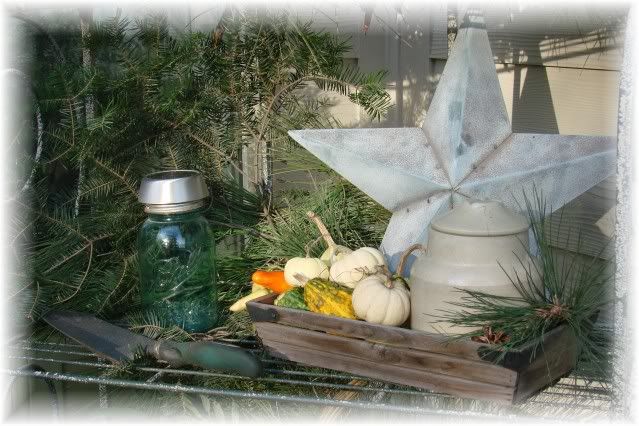 I
Used that same old enamel pan from my patio Herb Garden...harvested the herbs mostly & added gourds, ornamental peppers, pinecones & whatever...plus old enamel coffee pot.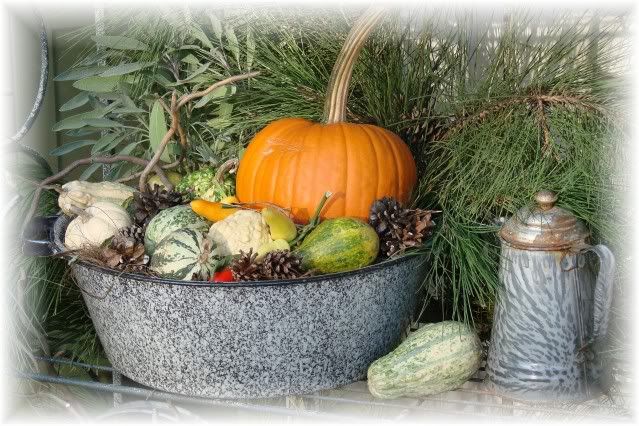 And galvanized watering can & old tea kettle ...both TS finds that I use ...Winter doesn't seem to both them as they get covered with snow!
Here's another view of the whole Baker's rack...gourds did real good this yr with all the heat & weeds in the garden...they must have liked it! :-)
This orange egg basket I moved to the front yard in the bird arbor...those pesky littled striped squirrels will love stripping the corn...I added a few more ears later: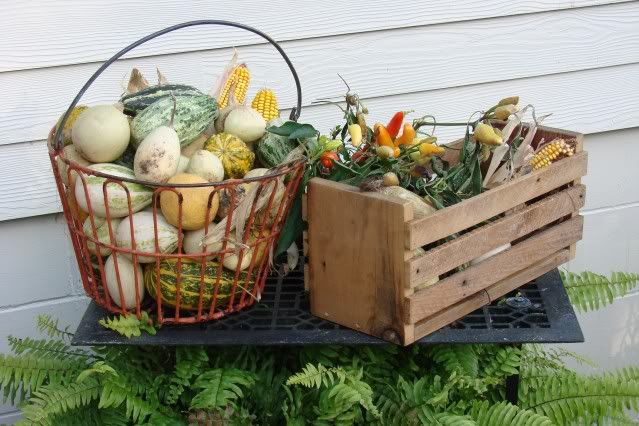 Hope you're having fun with Fall gardening...soon the snow will be here! Ugh! TFLookin'! Jeanne S.