Mower oil drips after shutting off
Owned my Honda mower for 3 weeks now. Used it twice. Today I mowed the whole yard without shutting it off. When I did kill the engine I looked on the right side a few inches in front of the dipstick and I saw 4-5 drops of oil drip out then it stopped. You can see it in the pic fairly well.
Knowing nothing about engines, mowers etc in my head I think this is not normal. I called Honda, they told me that it does not sound like something to be alarmed about. Watch it after a few more mows and see what happens.
My oil level is withing normal range as well. I took a few pictures which I will try to post a link just in case it helps. Its not alot of oil, the pictures make it look a little less as well, dusty and dirty. Any info or advice is welcome and I thank you in advance.
Link to larger image if it helps.
http://postimg.org/image/vxjnxiv0n/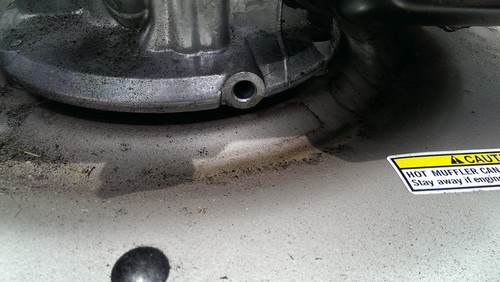 This post was edited by Dohmein on Mon, Jul 1, 13 at 14:38