Painted plate flower & the morality of destroying butter pats!
concretenprimroses
(4B NH)
November 5, 2011
A little while back I started painting small plates in an attempt to replicate some pretty ones that Toomuchglass had sent me.
Below is my first painted plate flower ready for its spoon and to go out in the garden to be tested for the winter. The two smaller plates and the gold on the glass glob were painted by me (per my previous post).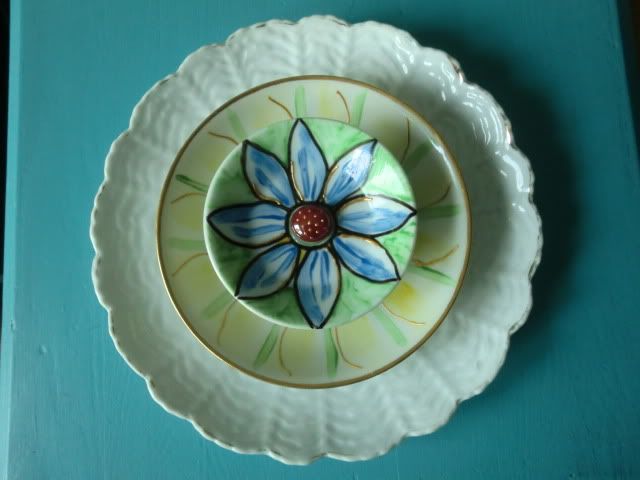 Well, doncha know when we went to Boston last Saturday I looked on the computer to find a convenient Michaels on the way and bought 2 more colors, magenta and ivory? I remembered someone posted here once about painting the whole glass plate. I also experimented with my technique (read: put paint on with a popsicle stick). Here is the batch I am "cooking" this morning. Once the sunflower one is cool, I'm going to put ivory accent lines on it to show off the petals better. The mulitple tiny blue flowers on the large plate had been gold-turned brown when I bought it. The old paint was flaking off so I scrubbed as much as I could away and tried blue. The doll tea cups I painted petals inside and out and the handles green but they are hard to see. I'm not sure where I'm going with the scallop edged one, but so far so good.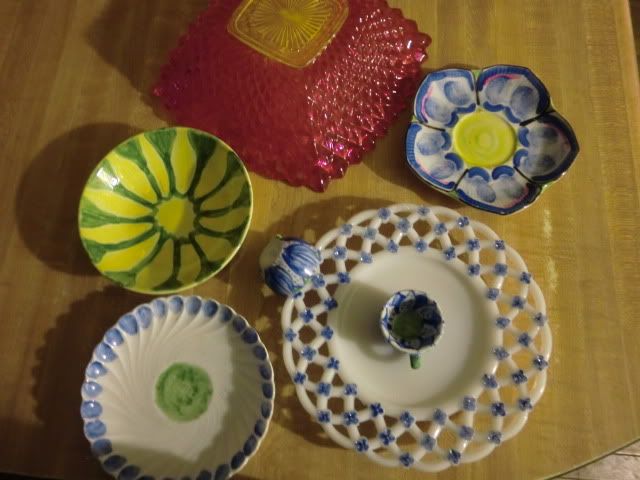 So now I'm obsessed with painting plates. I got these 9 at the flea market, the whole lot for a dollar. I think no one wanted them because of the heraldry coats of arms on them, but they are quite nice quality and some of them a very pretty shape. PERFECT!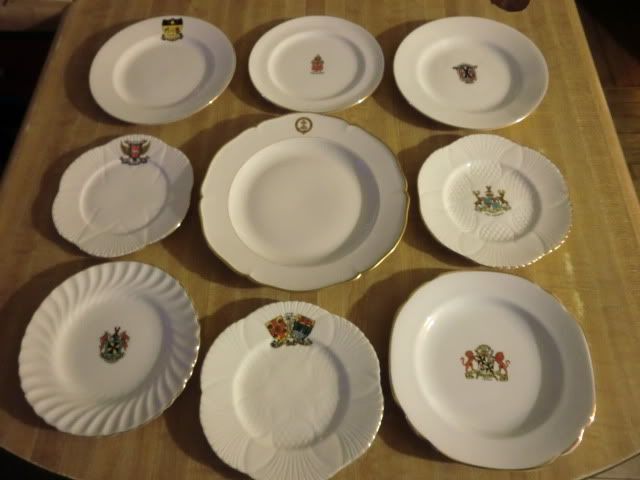 I searched for "flower dish" and "small dish" on ebay and discovered the world of butter pats including some vintage ones that look at lot like my pretty flower plates that got me started on this. I was looking to learn painting techniques, because I am not a painter. I thought, Oh butter pats are the perfect size and no one uses them any more - I should be able to collect a bunch of them cheap! I also discovered that what I thought were doll dishes in my collection were in fact butter pats. Well, there is a world of obsessed "butter pat" collectors who fill shelves with these cute little dishes. SO I've collected a few now too (at reasonable, ie less than $1 ea, prices.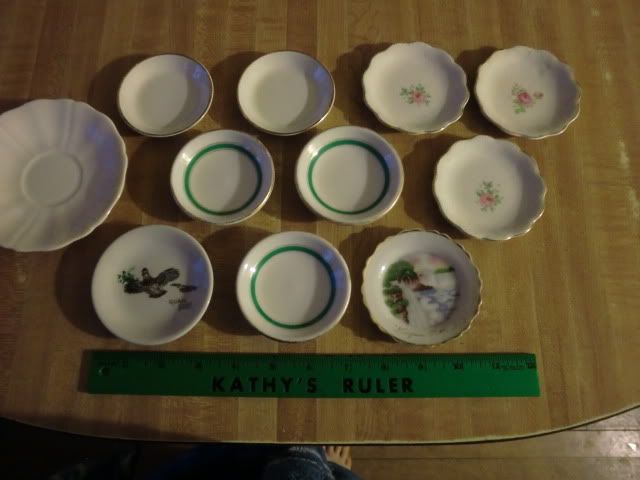 Plus one random flower shaped plate in the above pic.
Is it wrong to paint them? Do I care?
TFL
Kathy
Here is a link that might be useful: My previous post about painting plates