Bermuda seeding in Maryland
Hello all,
I am trying to establish a bermuda yard from seed on the eastern shore of Maryland. Tired of heat and drought killing my fescue yard every year, as the back yard bakes in the sun all day. Used roundup to kill the existing fescue/weed mess, scalped the yard, then used a Lawn Solutions slit seeder to put down a mix of Yukon, LAprima-XD and La Prima. Probably used more seed than necessary, just not used to machine! Covered with Greenview Grass Accelerator instead of straw, and have been watering 3 times a day for about 15-20 minutes each time. It has been exactly 2 weeks as of today, and I am seeing a lot of grass coming in! Happy about that! Seed started germinating after about 5 days, and I now have some taller plants (1 inch or so), some just trying to peek out, and some bare areas.
pictures: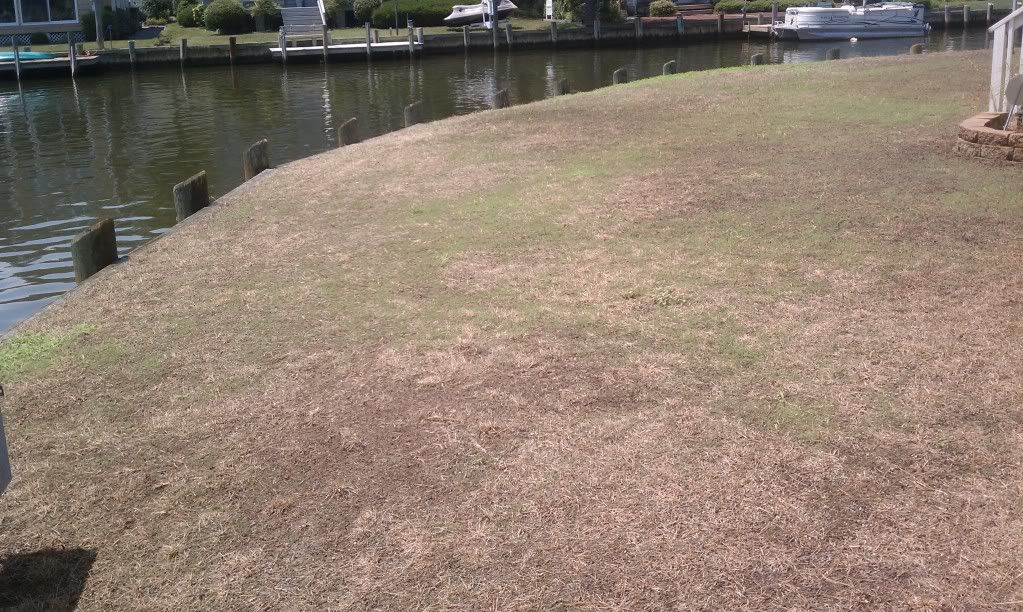 Questions:
1. Should I continue the 3 times per day watering schedule to encourage germination, or should I go to less frequent (early AM or evening) but longer time? Is germination just about done, or will it continue?
2. When should I fertilize? Won't be mowing for at least a week or two, I would guess.
3. I have never planted bermuda, only fescue, and I know the little fescue seedlings would die in a day or 2 in this summer heat. Days are 85+, humid and sticky. Will Bermuda seedlings (the little guys!) survive this weather with no water during the daytime hours?
Thanks for any suggestions or help! Being a newbie at bermuda, I am looking for any assistance in a successful yard restore! Very happy so far, but don't want to screw it up now!