Lots of dead grass blades
Had the back yard sodded last year when we moved in. This spring, everything was looking great. Aerated, overseeded and fertilized. Then, all of a sudden, it started to die off a bit. Not sure if it was too much fertilizer, maybe from the heat....not sure. Couldn't tell you how much fertilizer I put down, but it was a little extra than the recommended dose.
Anyways, now I have a lot of dead grass blades and its thinned out quite a bit. Any suggestions on how to move forward? How to get rid of this and get it back to thick and plush?
One of the pictures from above shows the section closest to the house. This is dark green and VERY full. Its where the dog pees. We water the spots every time she pees. So its of course getting a lot more water and fertilizer (pee) from the dog. These spots look awesome.
I fertilized again about 2 weeks ago, but used a spring time fertilizer instead of the recommended weed and feed.
That's where we're at.
Thanks for the help!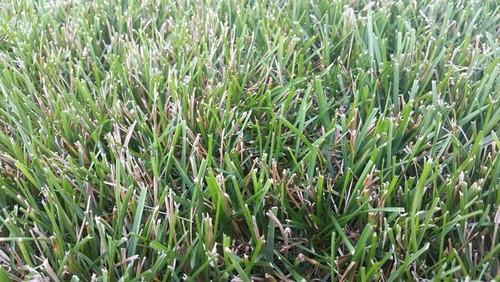 This post was edited by mrbigelow on Thu, Jul 17, 14 at 19:50