Preliminary Plate flower adhesive results
concretenprimroses
(4B NH)
December 23, 2009
Hello, I'm not comfortable giving away my plate flowers until I find a hanger and an adhesive for the hangers that I can count on. Some of you may remember that the plumbers goop gave way on the metal to glass after a year here in NH, and some of you have had similar experience with it in your gardens. Some have advocated 2 part epoxy based on short term indoor experiments. I've also wondered about mac glue which the developer of uses for stained glass stepping stones in her own garden. So I decided to do an experiment as follows:
4 Plate Flowers total using the following adhesives
A. GE Silicone II for Windows and Doors, Clear: used for plates to eachother as has been very reliable historically
B. Mac Glue: used for the glass embellishments (half marbles etc). This is an expensive but very clear glue developed by a glass artist.
C: Automotive Goop for 2 of the flattened spoon hangers to glass. I decided to try Automotive Goop because it says both glass and metal which Plumbers goop does not, and it is rated to -40 degrees F.
D: Two Part Epoxy for 2 of the plate flowers' hangers, one with a flattened spoon and one with an already flat cake server which I pounded on to give it some tooth. HD didn't have a 2part epoxy rated below -10F which is not enough for around here, but I found one at the local building supply store that is rated to -40F.
Here is a pic of the adhesives: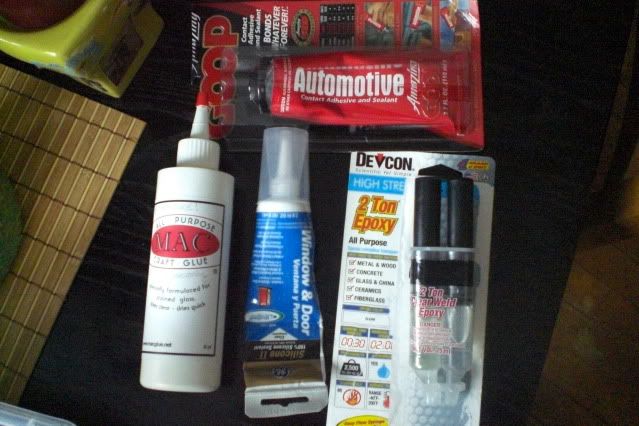 I made them about 3 weeks ago and left them inside to cure for a week and set them outside two weeks ago. We have already had several days of -10F.
2 of the plates were sitting on the back porch because the spoons are too big for the pipes that I have, one of each automotive goop and 2 part epoxy.
Results so far, after 2 weeks in NH winter weather.
A: GE Silicone II good on glass to glass as usual for me
B: Mac glue embellishments, 3 elongated half marbles have fallen off.
C: Both automotive goop hangers, the one up on the conduit in the garden and the one on the porch are still firmly attached.
D: Two part epoxy
The spoon on the one on the porch fell off when I picked up both the porch flowers and carried them to the garden to see if they would fit in my solar light stakes (no). The hanger for the one in the garden with the cake server appears to be ok.
When I looked closely at the spoon which still had the epoxy on it, I realized that it was actually flaking off and I pulled it off easily in one piece.
Here is a pic of it, I'm going to post other pics in the next post.
kathy