marathon 2 has died AGAIN
My somewhat new lawn (5 months from seed) has almost all died.
UPDATE 18 Aug 2014 ***
Attached photo is from 4 weeks ago, and now ALL GRASS is dead except along hte edges of lawn where my tilling probably didn't cast the walnut tree sawdust from the root grinding i had done. IS THERE ANY HOPE EVER?? Or do I switch to Xeriscape now and plants that tolerate black walnut??
END OF UDPATE 18 Aug 2014
I have native So Cal sandy soil which I tilled and added 2 inches of EB Stone Organic Compost (30%) and Green All Soil Booster (70%). The Green All product was discounted from the local nursery because the bags were over a year old (if that might matter). I used EB Stone Topper and some Black Forest compost as a topper to cover the seeds.
It started great and was a very consistent green carpet all the way up to about 4 inches and some parts started looking darker green and more mature (thicker blades) and I was cutting with a manual reel type push mower (Brill). It was great for about 5 months
The entire center of the lawn (80%) has now died off, and this is where a healthy black walnut tree once was that I had taken out and the stump removed. Not sure if that matters.
Blight? Root rot from too much water ? A disease ? Related to the old tree ?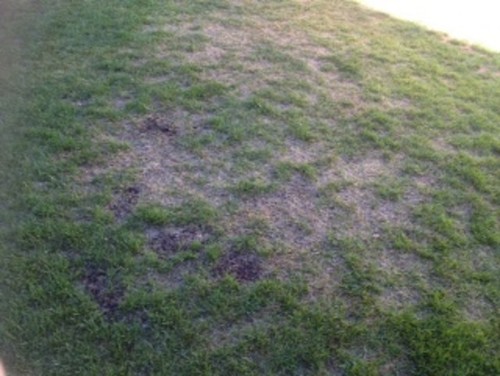 This post was edited by rcke on Mon, Aug 18, 14 at 17:27