Whiskey Barrel Bands Sphere is Done!
jeannespines
December 31, 2011
Yay, I woke up this morn & looked out the bedroom window & this way laying in the grass in the backyard:
DH had drilled & bolted my old Whiskey barrel bands tog! I had recycled 1 barrel myself (3 bands) & 2 friends had each donated to me earlier this summer. So this Sphere has 9 bands!!!
Here's a pic where I moved it in front of the tall grasses: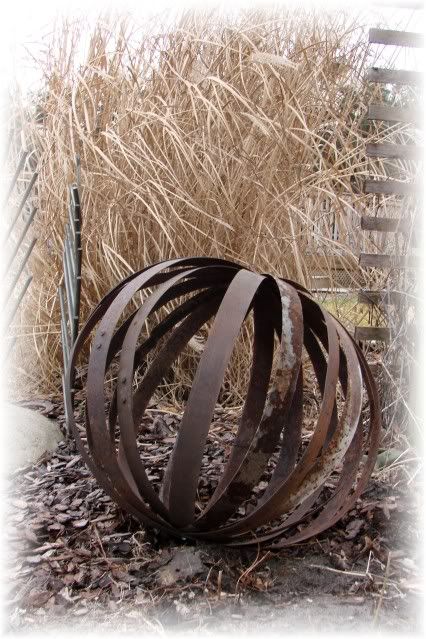 But I knew it's real home was going to be out in the Secret Garden by my log swing. So I moved it out there on this very windy warm day! (no snow, can you believe it! Strange!) Here's a closer view of it by the old barn door I have along a path which is right next to my log swing: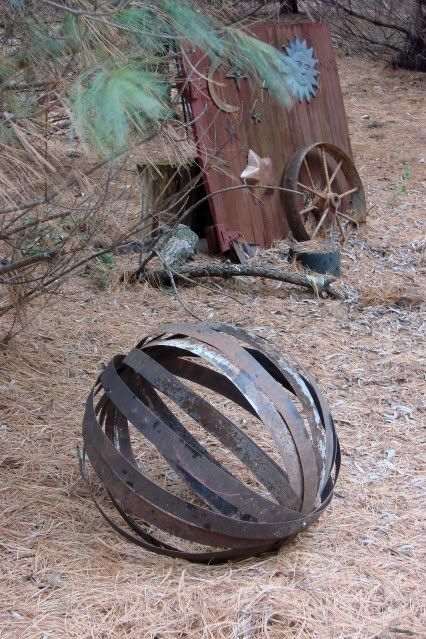 And here's a further away view...now the gr'kids can roll it around in the pines! (or wherever) ... I love it & thank the person who 1st posted it on GJ Forum...I had saved it from a few yrs ago in my 'Future Projects File!' Aaahaaa...one more future project done! Jeanne S.
DH told me right away that it's not really round & cause the sizes of bands are all different...I think he did a great job & I could roll it! Happy Days!