Poison ivy or harmless?
gardenper
(8)
April 24, 2014
This plant has been continuing to grow in my front yard/shady area for about 3 years now. It was there when I moved in. The previous owner says it is not poison ivy but it certain looks like it, especially sometimes when I see sometimes that it has 3 leaves in the typical poison ivy look. I have previously pulled at it (with gloves) but as it is one of those vines with roots all over the place, I never quite fully pull it out. As the growing season continues, I see new shoots of it also, in the same general area. Fortunately it has not been able to get a foothold in other areas.
The leaves are pretty clear from the pictures. The stems have barbs or thorns on them also. I have pulled lengths about as long as 3-4 feet as it sprawls all over my bushes (making it hard to see when everything is green).
Any idea of what it may be? I have never seen it with flower or (therefore) fruit. It's possible it's a sun-loving vine that isn't getting enough sun to do much else.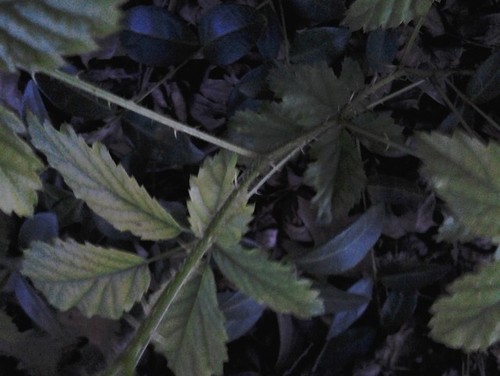 This post was edited by gardenper on Thu, Apr 24, 14 at 17:17