Visit to Rancho Los Alamitos
denisez10
(SoCal)
April 9, 2008
Excuse the poor photo quality, but I hope you get a flavor of this amazing place. These ranchos are scattered throughout the urban areas of So. Cal., and the main visitors seem to be school children on field trips. I've been to this rancho only twice before, just have become aware of it in the past few years, and it's about 15 mins from my house, tucked in near the State University. Except for checking in with the docents in the office, I've basically wandered these grounds by myself every time I go. There's a definite time-machine quality to this place. And it's completely free. And, Kathy, they have some reissued Bauer pottery in the gift shop.
It all started because of this Moreton Bay Fig tree, a patriarch of a tree. I saw a historical photo of it while working at a law firm recently, which got me excited about seeing it again and possibly getting a good photo of it, so I asked Mitch to come along and take a photo of it for me. You can see his camera near the base of the tree: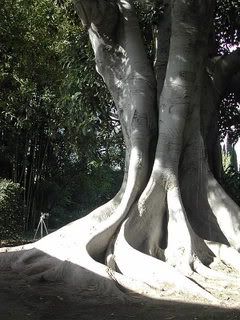 While Mitch set up the photo --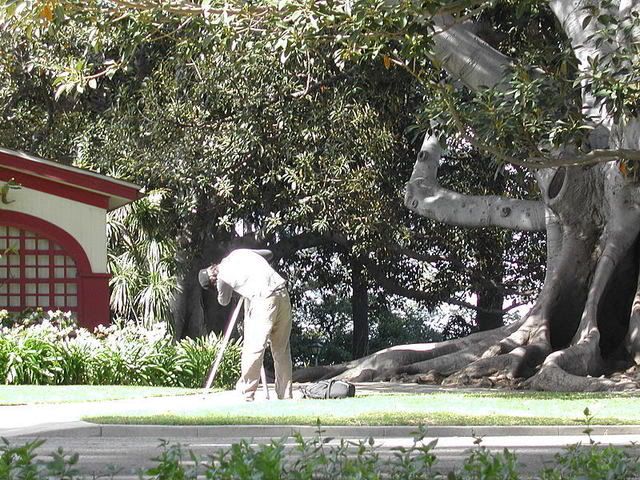 -- I wandered off into the rose garden:
-- where I was stunned to find a wall of climbing roses in bloom of the golden tea/noisette tribe. I had to confirm my suspicions on rose provenance, so I raced off back to the docents in the office to inquire about names, which no one knew, books were consulted, I was embarrassed to cause such commotion in an otherwise tranquil afternoon, close to closing time, but a woman was produced who pronounced (in a British accent) the rose garden had been restored by Clair Martin of the Huntington Rose Garden in 1996, and the two golden roses were indeed tea/noisettes Reve d'Or and Climbing Lady Hillingdon, the latter which I've long wanted to grow. The red in the middle is Talisman, no longer available:
There are many quiet places to sit and contemplate the lush greenery, such as these spots: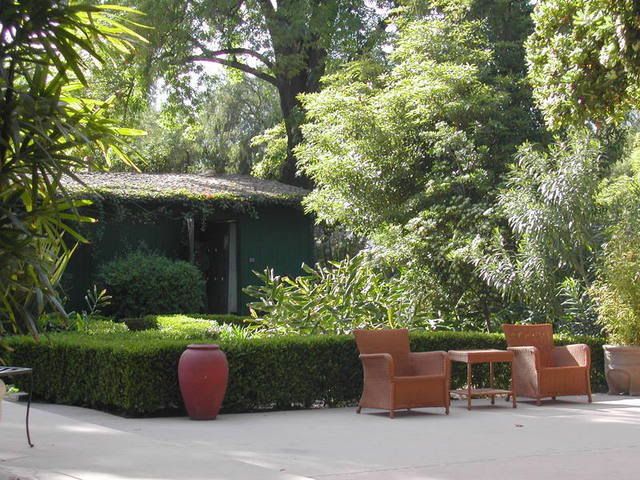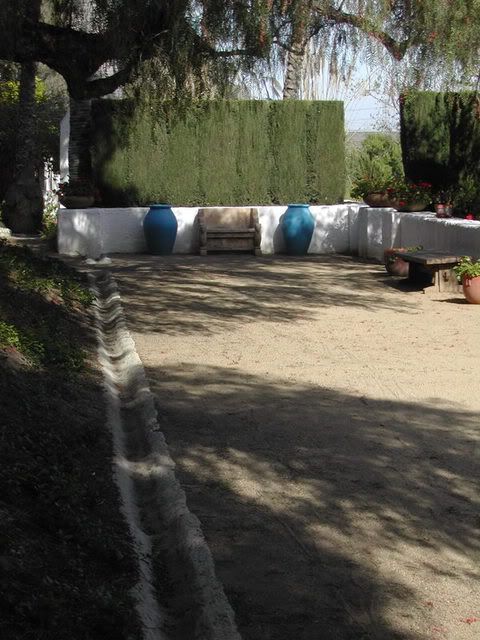 Here's a closeup of Solana maxima, the cup-of-gold vine, which was espaliered against one of the low buildings in a little courtyard, just starting to bloom. This vine gets huge. Pretty sure this guy is bat pollinated: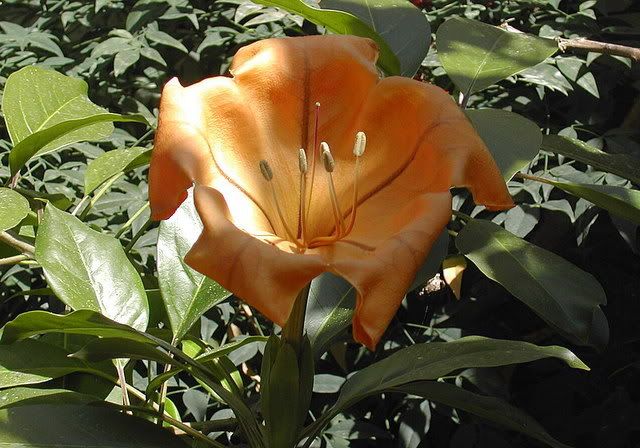 What's so enchanting about this place is the curators have resisted the impulse to jazz it up with fancy hardscape but have left it in its original simplicity. There were signs of alterations, with a new deck being built, and an old clay tennis court straight out of The Great Gatsby was being dismantled. Workers were busy building something in its place, I know not what, but it was right next to a small succulent/cactus garden, with a rather massive specimen agave: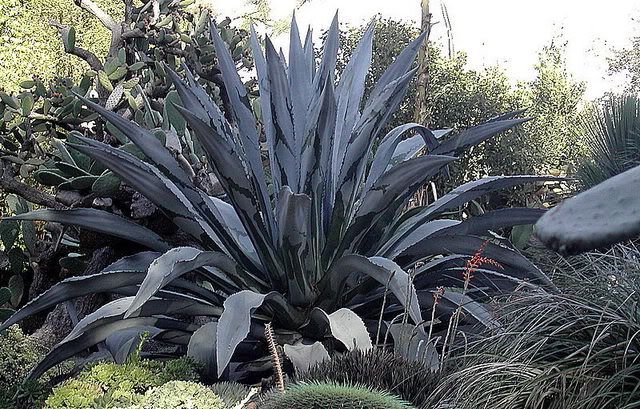 and this huge tree-like euphorbia:
We purposely arrived late to catch the photographic "magic" hour, so closing time was swiftly upon us, and there was no chance to explore main house or the working part of the rancho, the corrals and barns with farm animals and the magnificent white horse, the breed of which Chelone would know, just a massive draft beast of some sort. And then it was a short drive out of the rancho back into the city, a quick look out the window to see it swallowed up by housing developments, as tho it was just a dream.
Here is a link that might be useful: more Rancho info