Heard's Garden Tour Part II
denisez10
(SoCal)
May 3, 2009
Lots of tea tables set up at the gardens: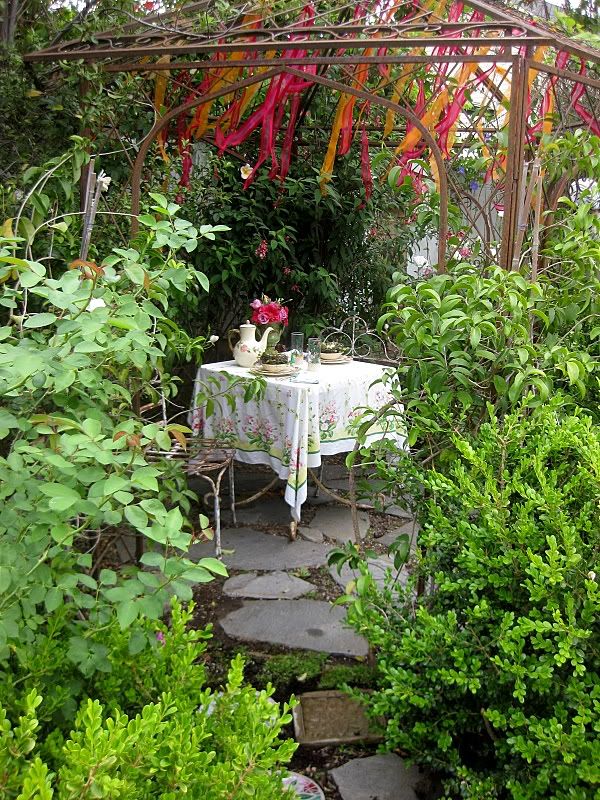 I'm not sure if this plant is seen much elsewhere, Loropetalum chinense, a witch hazel relative. Has a dark burgundy-leaved form too.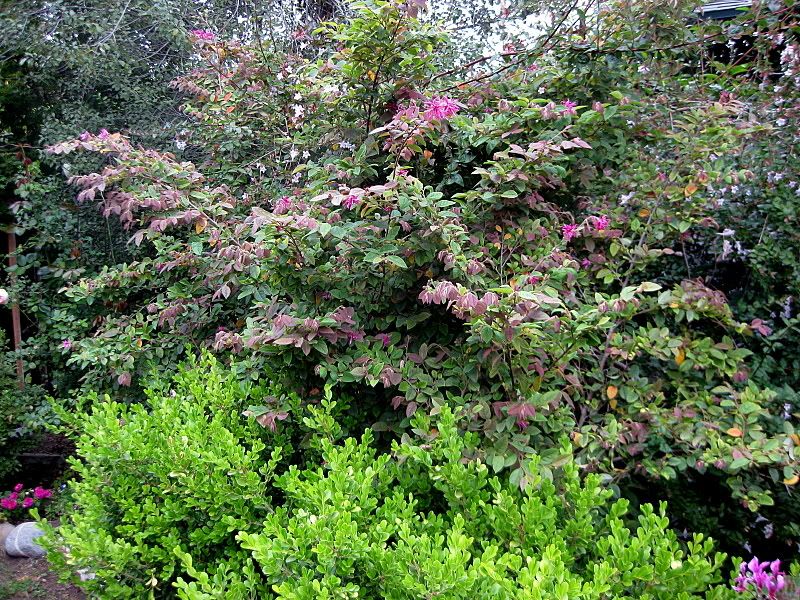 This is a plant I've grown for some time and saw it quite a bit on this tour, Calandrina spectabilis. Here it's paired beautifully with acidy yellow flowers of bulbinella:
Detail of a curbside planting with succulents:
Aeoniums are usually such a hit with the idylls, I had to include a few: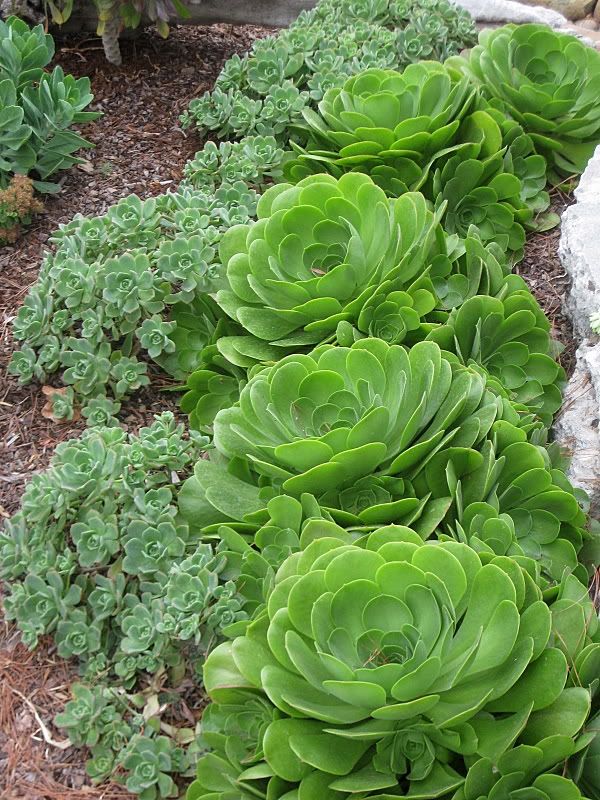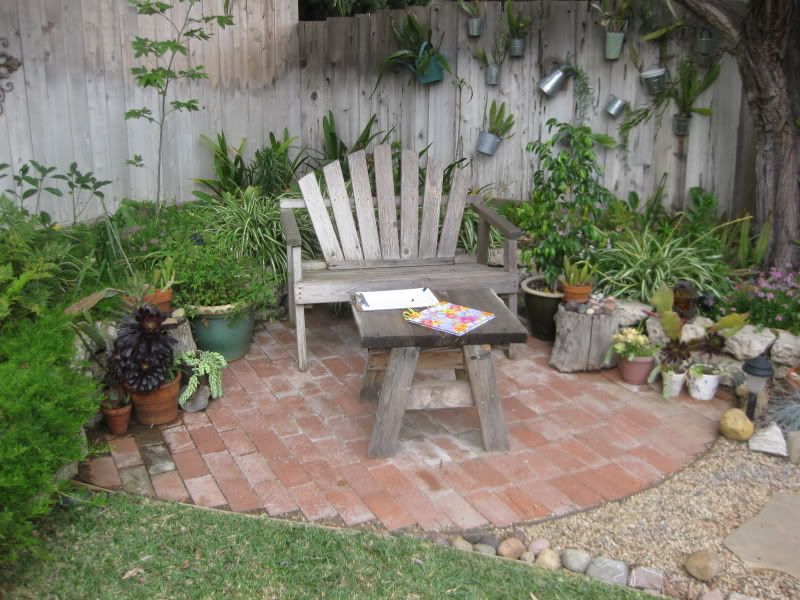 This hand was given permission to grab a peach!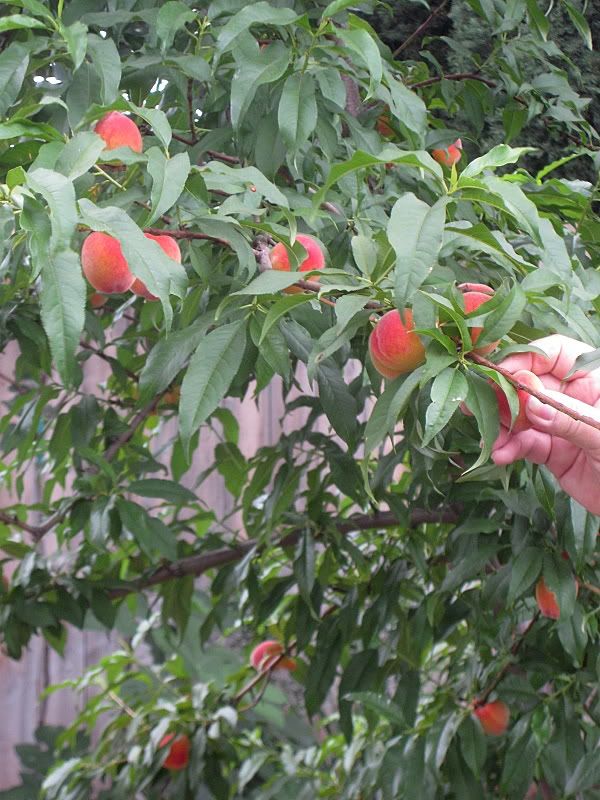 This next garden was very spare, austere, built around a mid-century house, a one-level structure built to flow into the landscape, the back of the house usually mostly glass. The owner writes a gardening column for a local newspaper. The garden was enormous, with paths wide enough to ride a small pony on. Here's the "font" right outside the back of the house.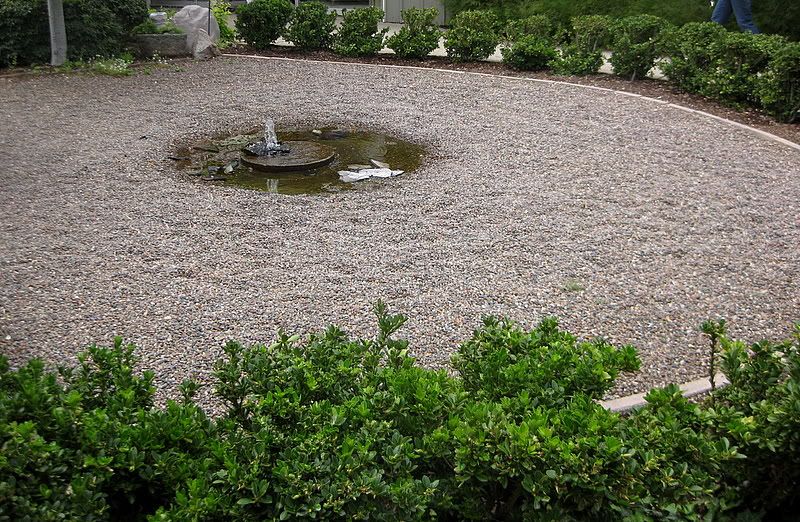 The entrance to the garden from the driveway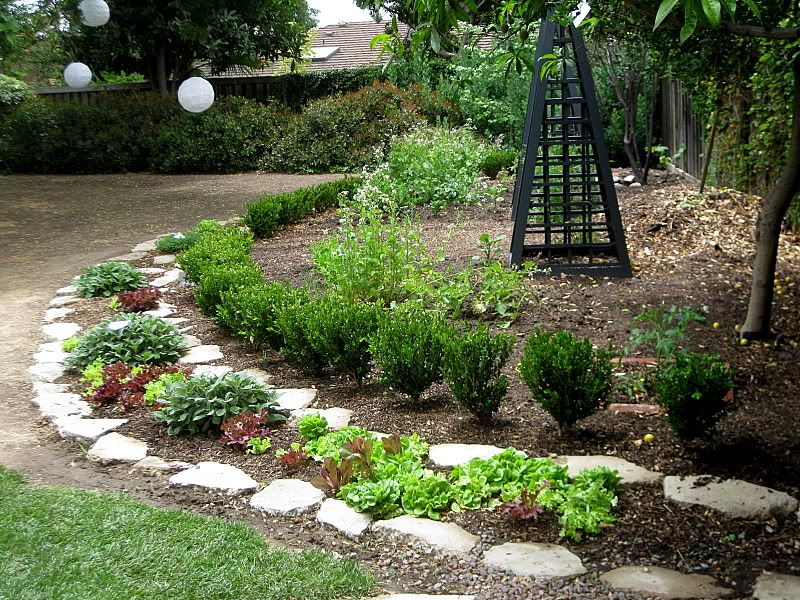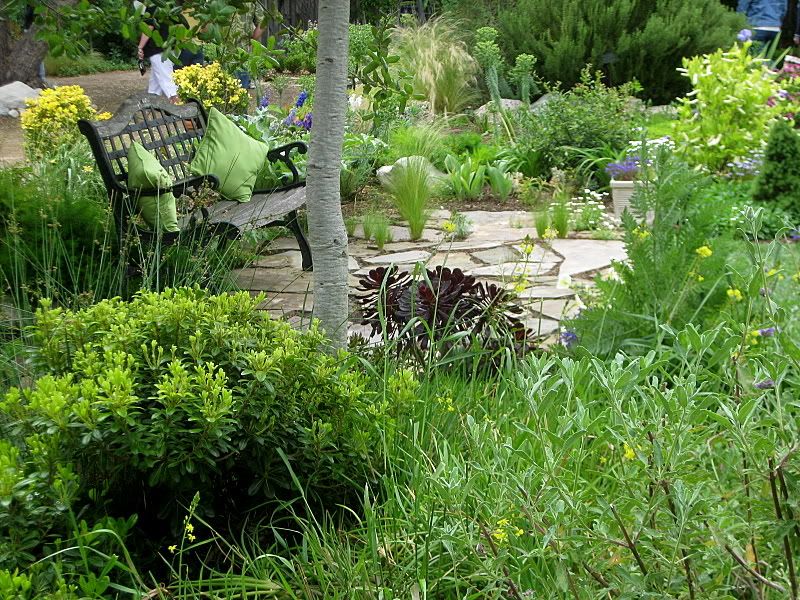 Here's a view of how the house curves around the landscape. (Note dueling photographer!)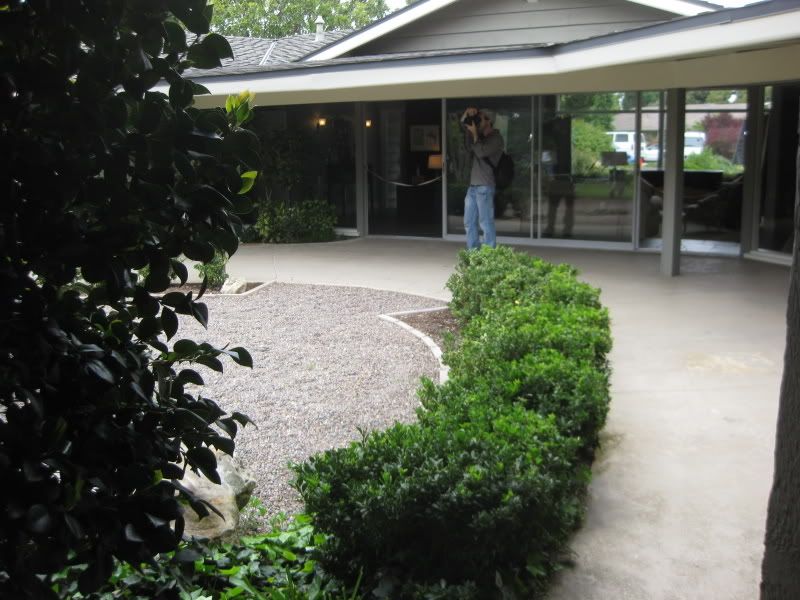 This seating area at the far perimeter looks back at the house.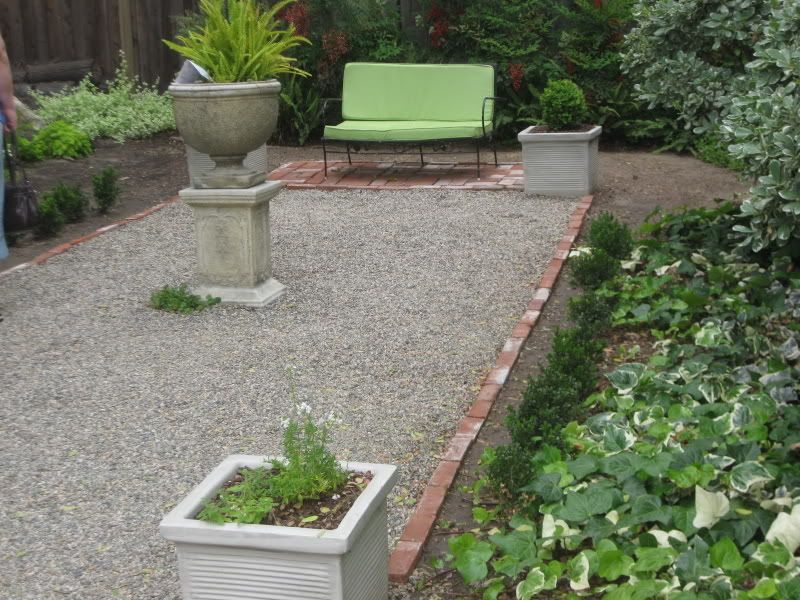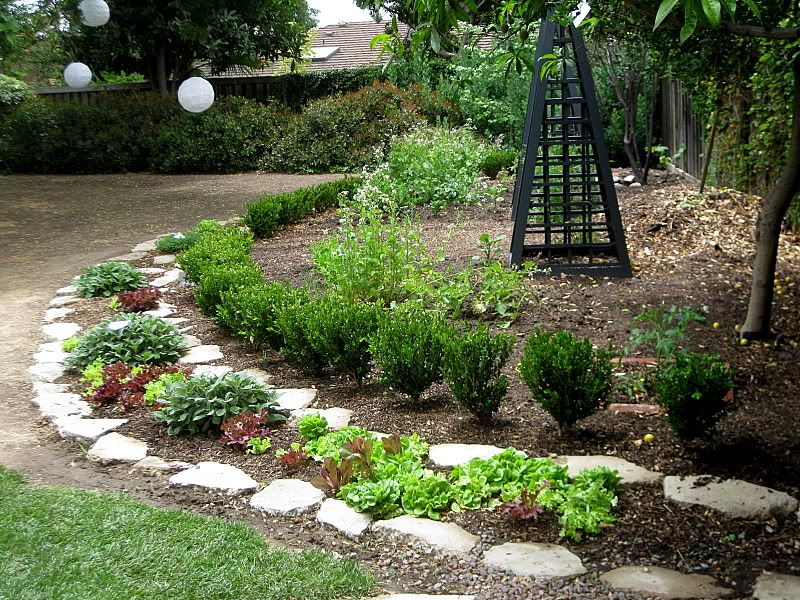 This gives a sense of the openness, looking back to the house. Decomposed granite was used extensively throughout the garden as hardscape. Must be an amazing place for parties!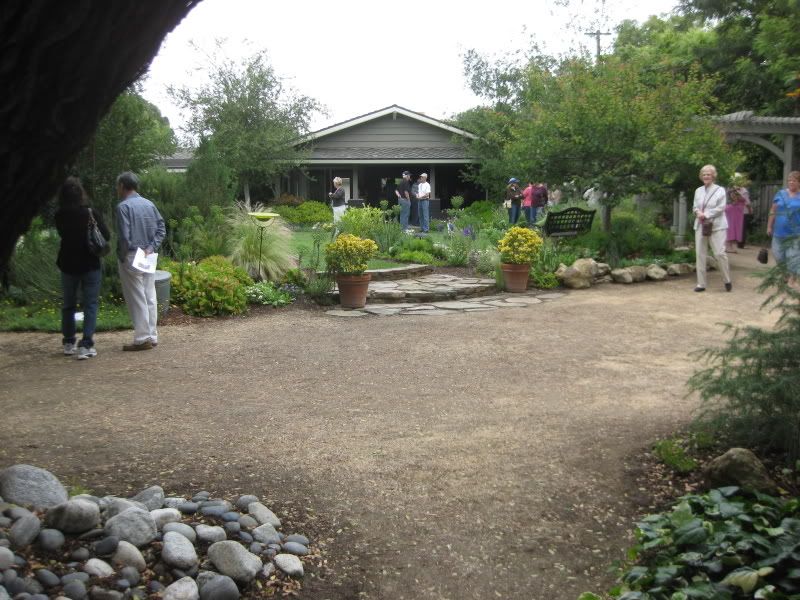 This next 12-year-old garden sat on 3/4 of an acre in Huntington Beach, sitting on land formerly used to hold vast greenhouses for growing orchids. Condominiums have been built around this house. I'll try to get the photos in some order as one enters.
This line of red shrub roses runs the length of the property which abuts a flood channel, if I remember correctly: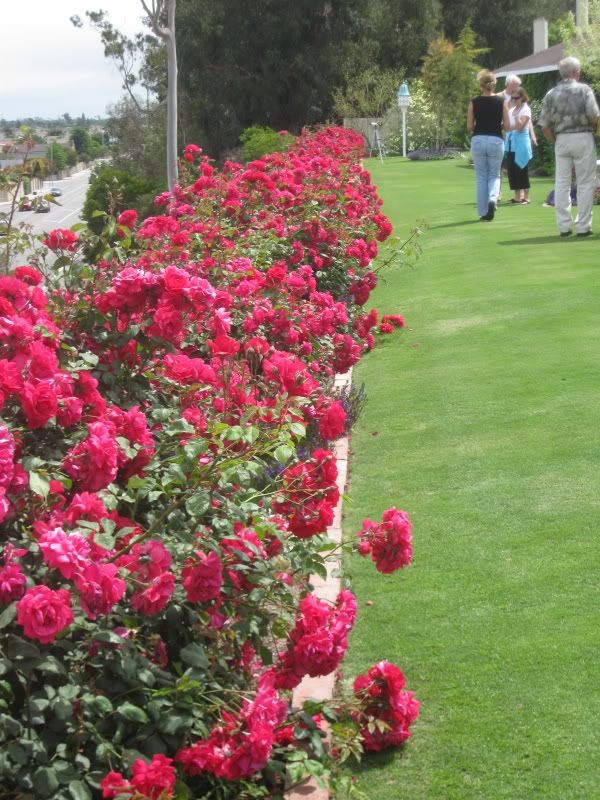 Front entrance, boundary of red shrub roses to the left in this photo: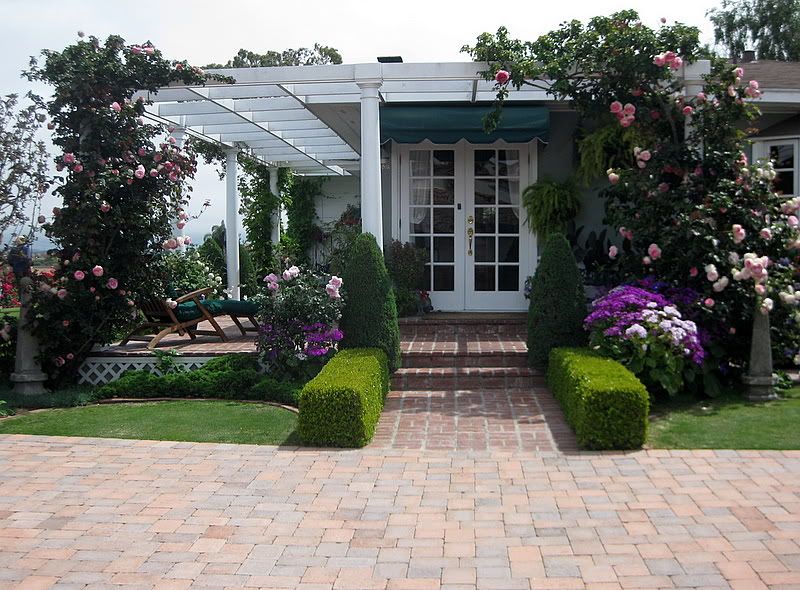 Looking down the pergola/porch: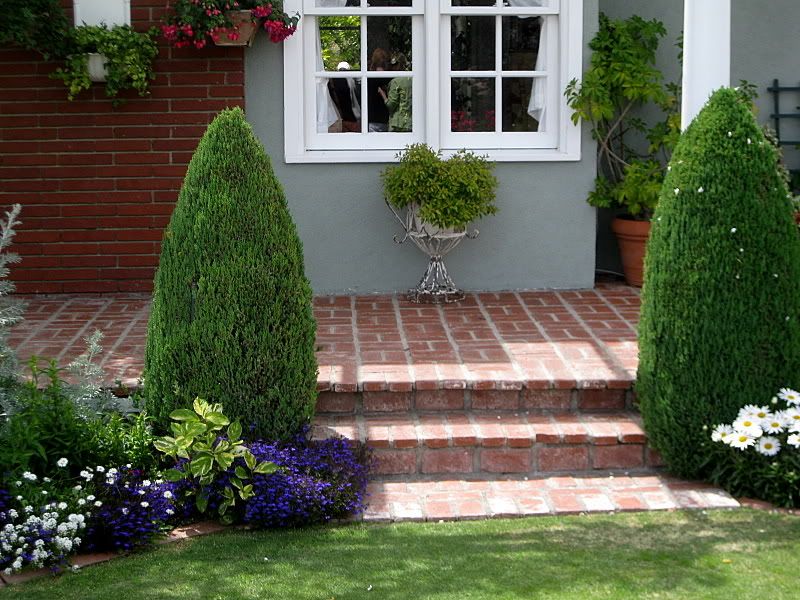 Around the back is where things really start to happen, like this waterwheel...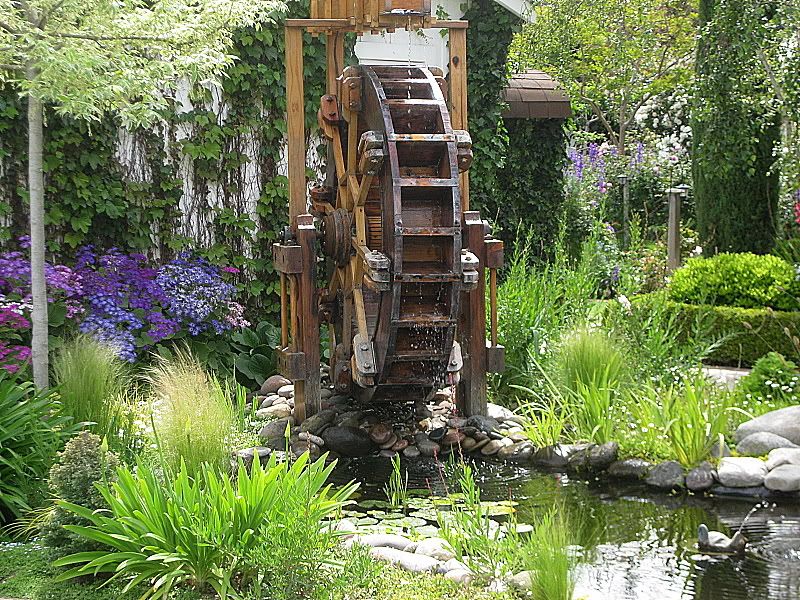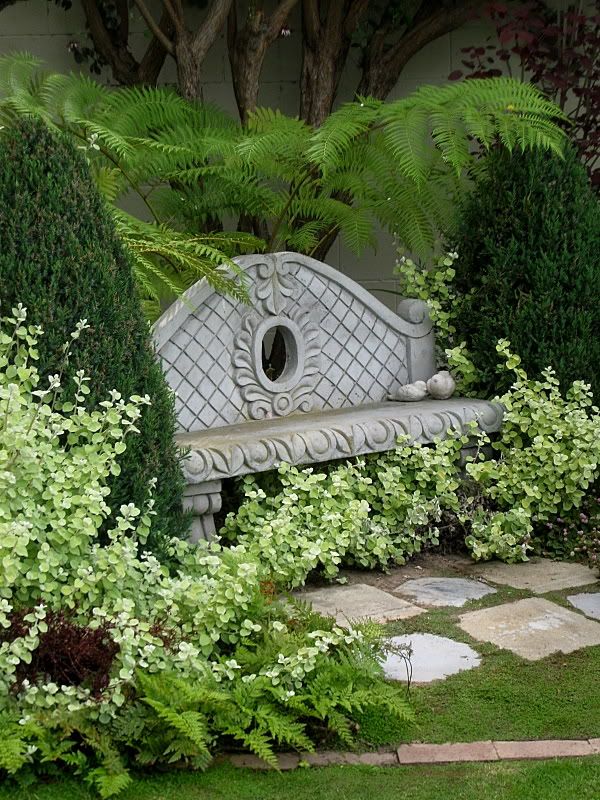 Glasshouse
Pathways all bordered in box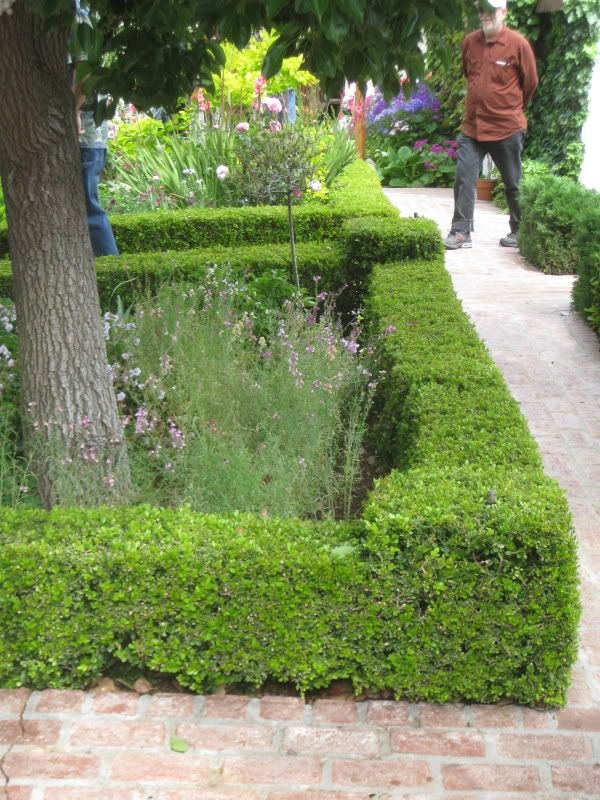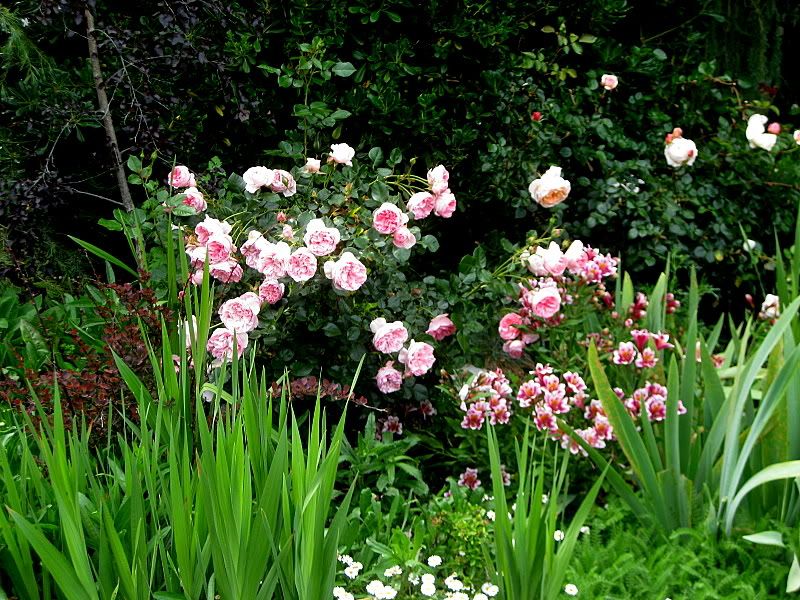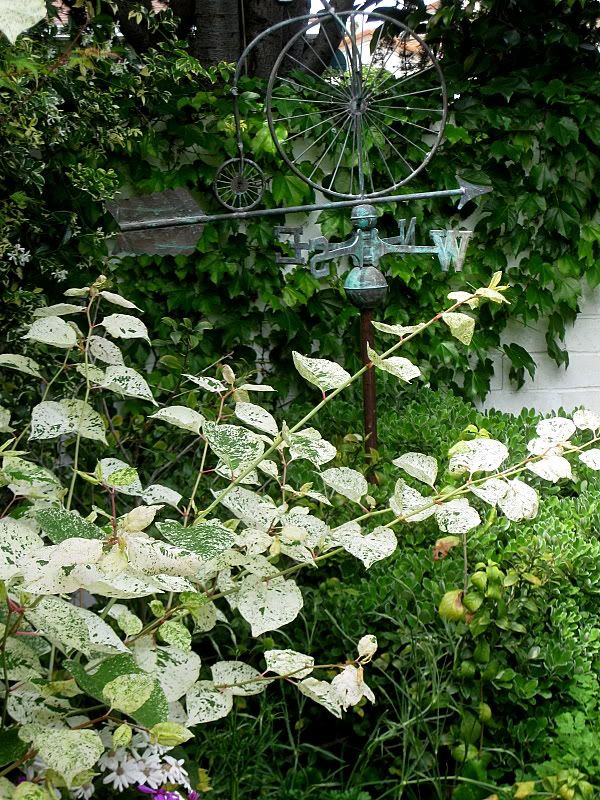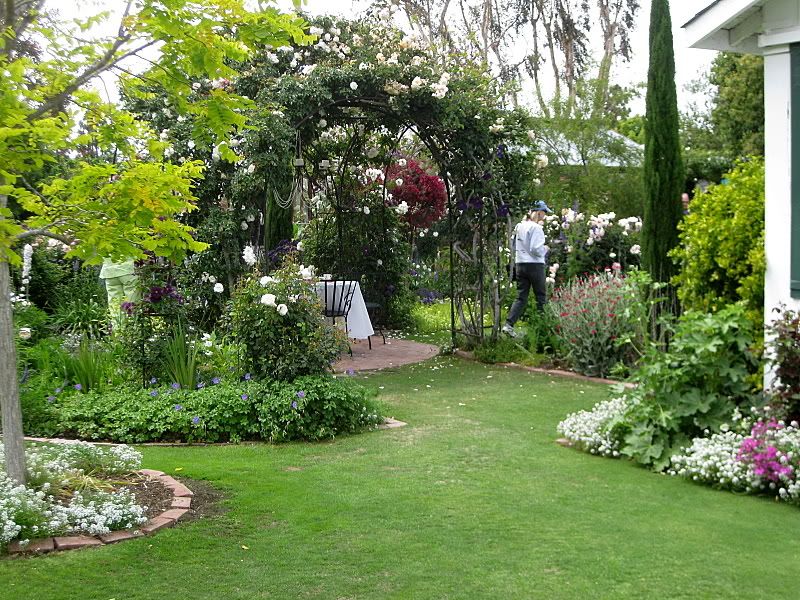 a golden locust?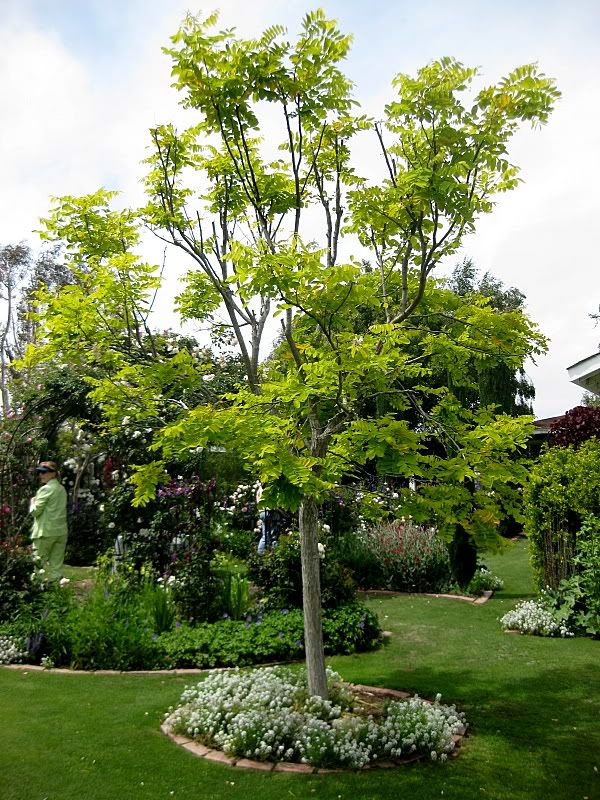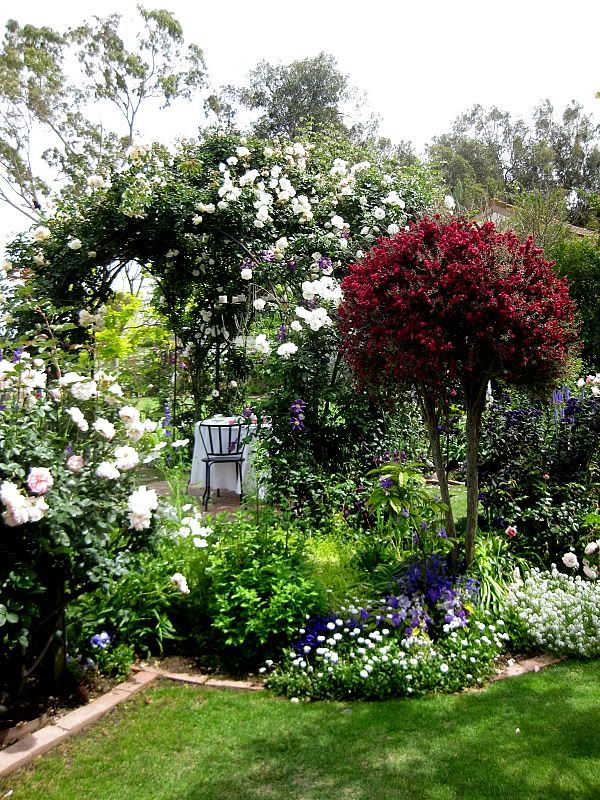 Eden, cinerarias, and an obelisk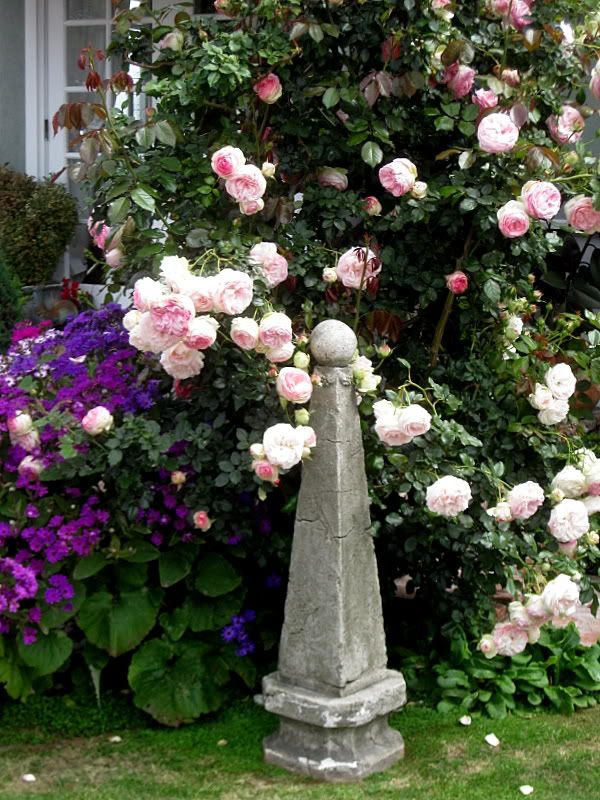 The golden cotinus with watsonia, a South African bulb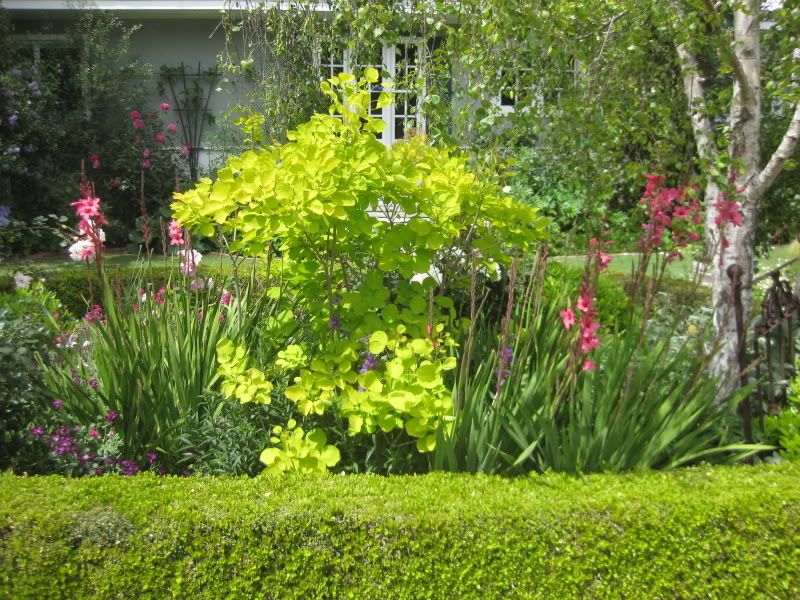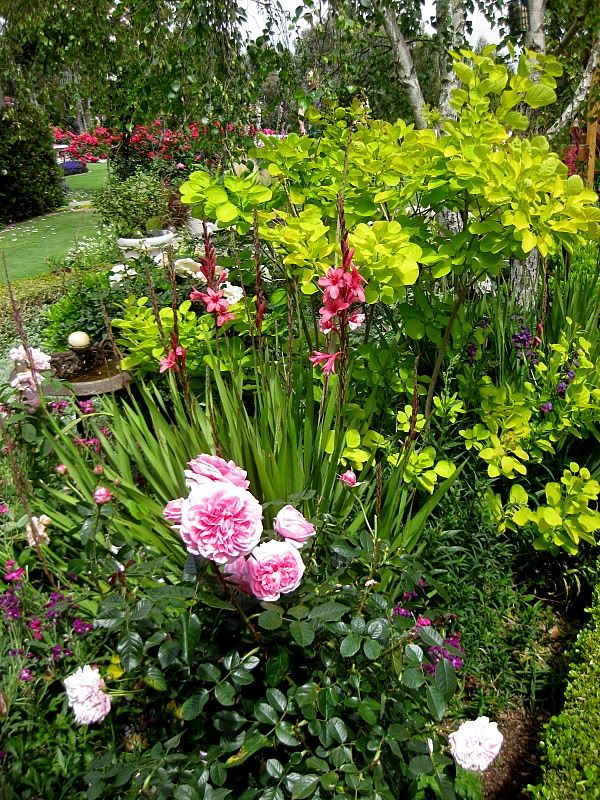 I thought this airy shrub was a breynia but more likely fallopia: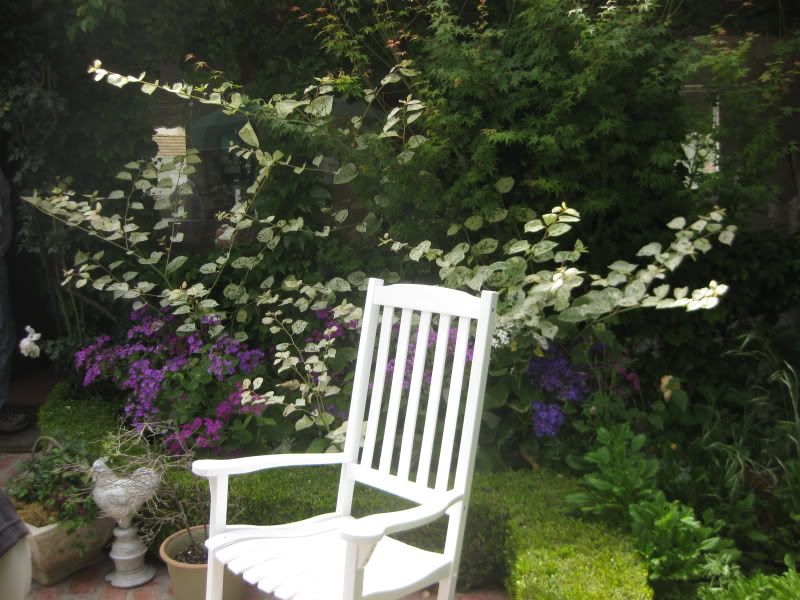 Solanum 'Glasnevin' with matching clematis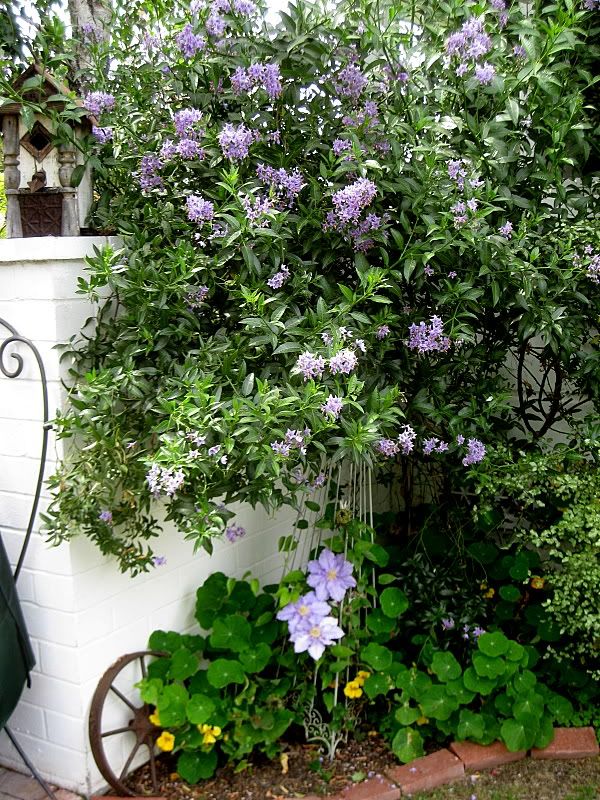 Queen's Wreath. Haven't looked it up yet but probably petrea:
Dovecote and viburnum in background
Fruit tree espaliers along the vegetable garden boundary
Hedge trimming detail around the statue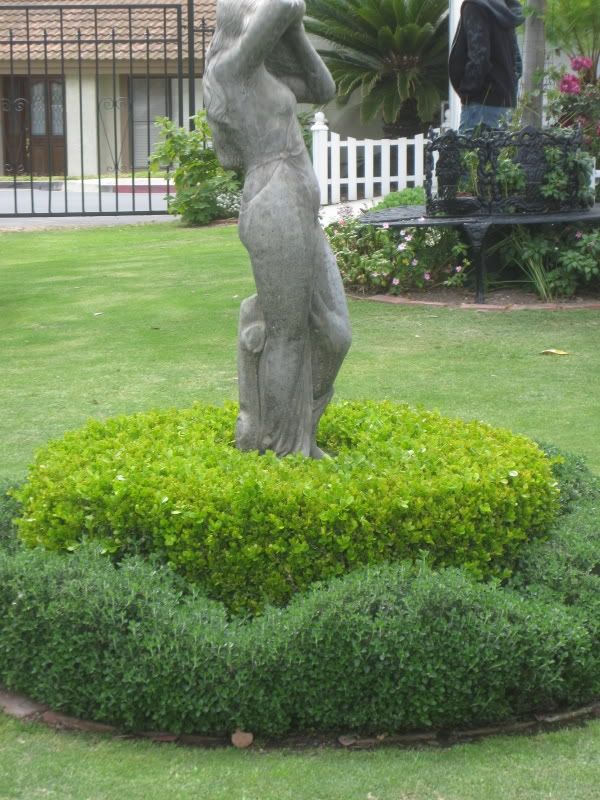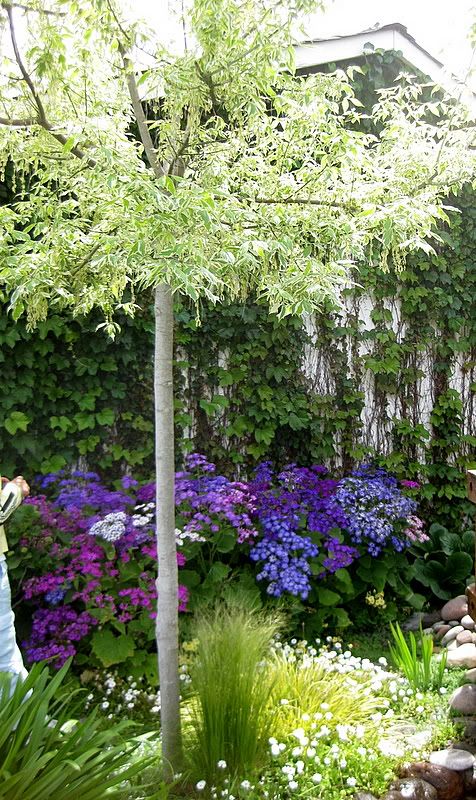 enjoy!