Introducing Sasha - the new kid on the block
koijoyii
(NE Ohio)
February 18, 2009
We (Boa, McLovin, Willow, my son and myself) just adopted Sasha from the Forever Friends Foundation. She is approximately 1 1/2 years old and is a tokinese/balinese mix. She was a stray that was rescued by the Hudson Fire Department before going to live with her foster mom and dad. The family who owned her abandoned her and she met with some very unkind humans who may have mistreated her. At the present time she is a feral cat who does not trust people. Her foster mom has never been able to pet her and has had to handle her with anti-bite veterinarian gloves. She was able to brush her with a brush attached to a dowel rod. At the present time, she is living in my small 4X4 half bath. She has been vet checked and is negative for communicable diseases and is up-to-date with her shots. I picked her up last Friday and feel we have made progress since then. At first she hid behind the toilet and wouldn't look at me. She doesn't run now when I enter the bathroom. She doesn't growl or hiss at me and is letting me reach her treats when my hand is four inches away from her head. She met me at the bathroom door last night when I got home from work and I couldn't get in. She was sitting up on her hind legs begging to come out. I played with her for over 1/2 with a feather toy and a drawstring from a pair of jogging pants. I really don't like keeping her in the bathroom, but if I let her have the run of the house I may never see her again. She was living in a shed with several other feral cats who went into the insulation in the ceiling when we went to visit her. I do have tiles missing in the ceiling of my basement and don't want her to go into the ceiling and not come out. I am trying to bond with her before I release her from the bathroom.
I know never to reach towards her with an open palm and not to make direct eye contact with her. She has not met the rest of the girls yet because I don't want her to bond with them before she bonds with me. Sometimes I'll take food in the bathroom and sit on the floor and eat it hoping to tempt her.
Does anyone have suggestions as to how I can make the transition easier?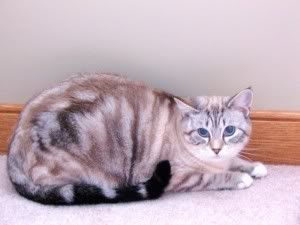 Jenny