Kind of quiet here...check out Habitat Day in MN
sheepco
(MN z4)
March 8, 2008
Just in case you all thought I was getting lazy or just sittin' around whining about the cold.
Woke up this morning and realized some dog had nudged the alarm clock plug out of the wall part way trying to curl up on the dog bed in the corner, huh...amazing - not enough room for the 5 of us on the Queen-size bed. So the alarm didn't go off. But I'm not late...
Made it to the mall in Alex 45 miles away an hour and 25 minutes later, only 5 minutes late, and that's after I showered, dressed, fed the dogs and let them out...twice (ok they were both short outs :)
HABITAT DAY!!! Our Pope Co Pheasant Restoration group (like Pheasants Forever, but we're 2 years older and don't pay a CEO $600K) had a table representing ourselves and we are contributors to the Habitat Day sponsored by the Viking Junior Sportsmen's Club (the young people of another local wildlife/conservation group). The mall is filled with booths and tables about all kinds habitat/conservation stuff for all kinds of wildlife: DNR, US Fish & Wildlife Service, local Lake Associations, Ducks Unlimited, Local Game Wardens, PF, Nat'l Turkey Federation, local garden clubs, etc. Also demos from The Raptor Center at the U of MN, etc. The kids get to build bluebird and wood duck houses, paint T-shirts with bugs and turtles and stuff, make suet feeders, and bird feeders out of recycled pop bottles. All FREE.
They had wood pre-cut to make 750 bluebird house - and they RAN OUT! And there wasn't much left of the wood for 550 pre-cut wood duck houses. YEAH!!! The kids had a ball, and there's that many more that may be interested in the environment now!
Congrats to the Viking Junior Sportsmen of Douglas County!!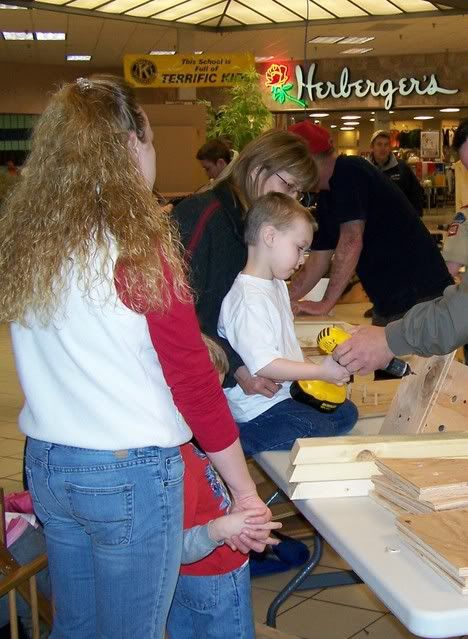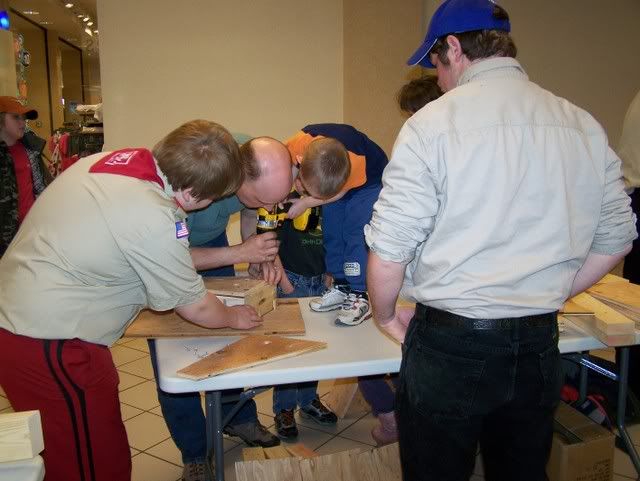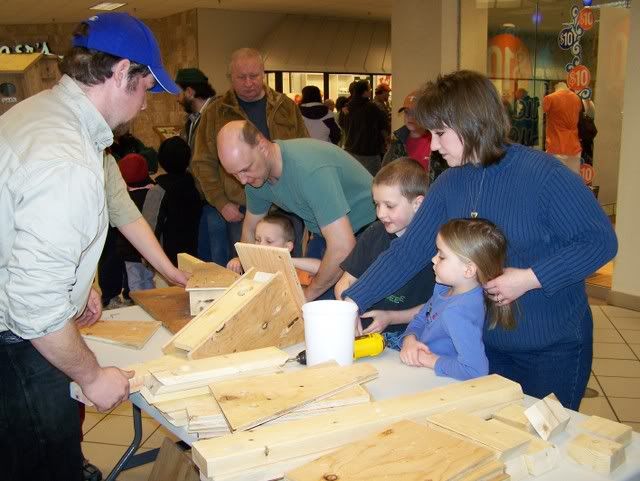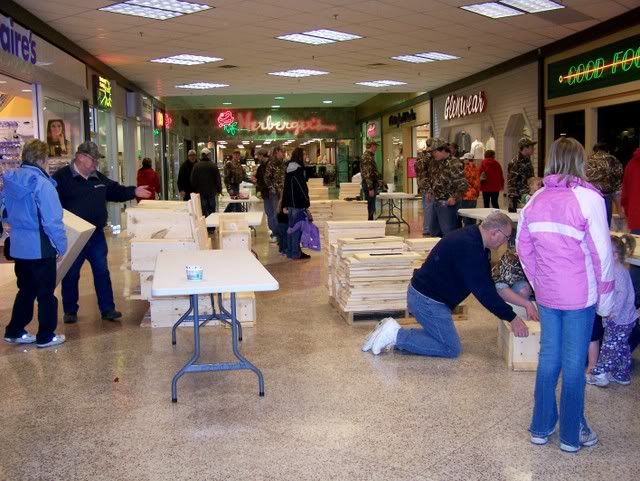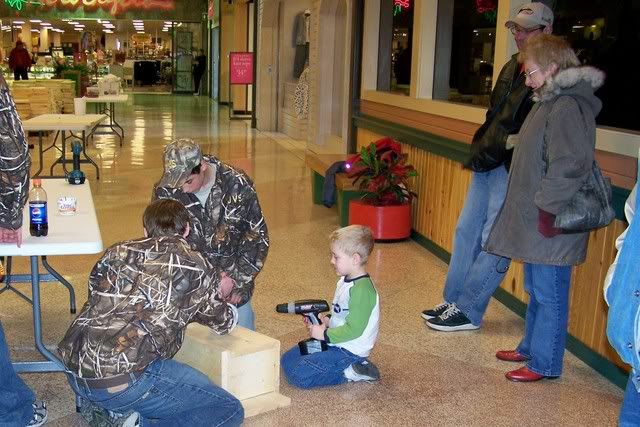 Gotta love these little kids - all they really get to do is push the trigger on a cordless drill and see a bird house get built, and they love it. Lots of help from the local scout troops too!
(most of these were taken early, the place was packed from 10am to noon, and it was cold and snowing!)
Thanks for looking, S
PS: I did get swept into Herberger's shoe sale..wasn't my fault...really, then had to trek out to my car to get my driver's license so they would take my check :0) So the day wasn't a total waste.