Please meet my new family member Leo...or Murphy...or?
sheepco
(MN z4)
March 23, 2006
I've had him 36 hours...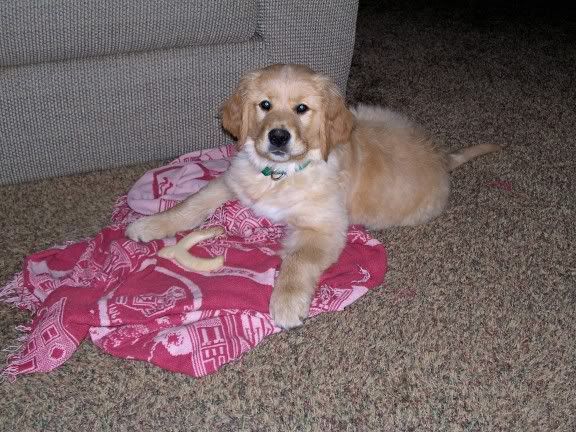 Long story made short..a client breeds 2 gorgeous registered golden retrievers (I know both parents), have a couple too many pups, can't sell them all...I dispair at the short-sightedness of some people...
However, against my better judgement and common sense...
The last 2 came to me, this one will stay, and the other will go to a fantastic home of a friend.
Emma can't decide if she needs to lick him or stand over him in dominance, Kate thinks he's her new toy, and Lily is hiding under the desk. God, what have I done ???
But he's here to stay, and he'll fit in with the gang. How can you not love a fuzzy golden puppy, and I can't decide what to name him.
He's 10 weeks old, smart, fearless, tail waggin', happy, nose to the ground, a bit defient (tho' he doesn't know what his name is - so I quess that's to be expected), inquisitive, soft, fluffy, fat, VERY calm, superbly socialized (and after I get done draggin' the little fat boy around, even more so!), and gentle. So far it's Leo (Lion-hearted) or Murphy, Piper, Hawk, Royal, or Rebel.
So I'm asking you to weigh in, you know even less about this little tubby guy then I do. Or if you've known a favorite dog or are just saving a favorite name, I'd like to hear :)
Sarah