Seed for bare spot
I just moved into a new house and we have bare spot (4' x 3') in the middle of the back yard. My guess is that it is where a swing set was. Im going to put some raised beds over there on the left.
I'm not sure what kind of seed I should get to plant there so I'm soliciting opinions. I'm looking for something that I won't have to waste much time watering or taking to much care of. I'm not looking for the perfect lawn just something passable. I'd also like something that birds (and other beneficial insects) will enjoy, I have no idea if some grasses are better for this than others but I'm throwing it out there.
I've read some people promoting sheep fescue / azay blue: [http://gardenrant.com/?guest_post=my-favorite-turfgrass-sheep-fescue]. But have also read a few posts of people having issues with that.
Optionally could i just turn the soil over in that spot and wait for the grass to grow back into that area.
I live right outside of Philadelphia, zone 6b.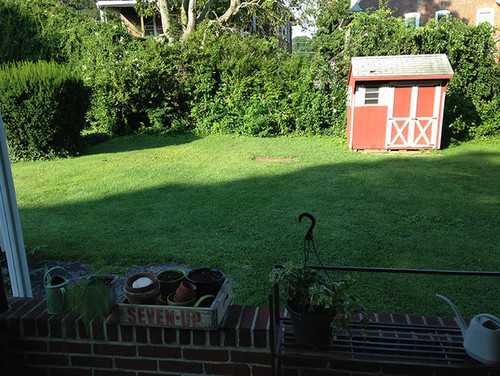 This post was edited by blg002 on Thu, Aug 14, 14 at 22:18