Journal 29 July 2010
I'm moving! The bank takes the property back Aug 20th, and so I have to be out pronto. I began packing up the stuff when LF took off to hang out with his dad for a couple of weeks. I can't decide which is less stressful, LF being in the middle of the chaos, but a part of it all, or coming back home to a home that is totally new??? But I picked the latter of the two. Last night, my sister and I did the most objectionable of the moving tasks (and that we've been dreading), taking all of the boxes out of the attic. We thought it would take hours and hours, but it was swift and we were done in 2 1/2 hours. It was fun and amazingly simple. It was so easy, now I can't stop thinking about how excited I am about going home tonight to get more of it done. Guess I passed the halfway hump and I'm finally glad to be going. I do have bruises in the strangest places from last night though, tops of my feet (no shoes on) and the back of my right elbow??? I keep hitting my elbow, worse than a sore thumb!
Well, here she is. Isn't she cute? Built in 1928. I'll take pictures of the inside later on. We're sharing the house, them in the top, us in the bottom. A sweet couple with a 3 year old adoptee.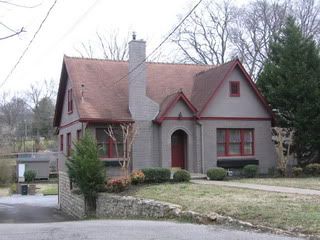 I'm not allowed (it's in the lease, no joke) to do yardwork or improve the dwelling. Darn! ;) So no more of the stuff I've done for years. Ed is coming soon to get the appliances we paid for (remember, his house burned down?) and the tools I NO LONGER NEED!!!!!! Wahooo!!!!!!!!!!!