Support our Military
Ima_Celery
(OHzoned 6)
July 30, 2006
If you have the time and are interested in supporting the American soldiers please look at the link and perhaps "adopt" a soldier.
If sending packages, please keep in mind that depending on the time of year the daytime temperatures in Iraq or Afghanistan may be high so watch that you do not send something that will potentially melt in the heat like chocolate (unless you get the melt proof chocolate made by Hershey's).
Requests include the following:
any reading material (pornography is prohibited)
baby wipes
eye drops
Pop Tarts
Rice Krispie Treats (not the breakfast bars)
walkie-talkie...(PLEASE include the batteries needed but do not install them in the devices)
any kind of munchies / snack food
tuna fish / salmon (with mayo on the side)
DVDs...(something funny.....no war movies)
Kool Aid / Lemonade Mix / Ice Tea Mix (the kind with the sugar already included)
drinking straws
a kind note of support
If contacting a soldier, you could of course ask him or her what they might like to have to make their life more tolerable while on duty.
Placing items within zip-loc bags will also greatly reduce the dusty sand that permeates everything there also.
______________________________________________________
Other links:
_____________________________________
For a list of comprehensive legitimate organizations:
_____________________________________
To send a letter of support for anyone in the military:
________________________________________
Help set a world record.
_________________________________________________________________
To help upgrade safety for our military Operation Helmet
-------------------------------------------------------------------------------------------------------
To contact a person in the US military and send a letter of support please visit this site Operation Dear Abby
-------------------------------------------------------------------------------------------------------
For the birdwatchers, welcome to Birdwatching in Iraq
------------------------------------------------------------------------------------------------------
___________________________________________________________
To help the pets of military personnel contact the following:
------------------------------------------------------------------------------------------------------
I believe this was sent as an e mail: RED FRIDAY
Very soon, you will see a great many people wearing Red every Friday. The reason? Americans who support our troops used to be called the "silent majority." We are no longer silent, and are voicing our love for God, country and home in record breaking numbers. We are not organized, boisterous or overbearing. We get no liberal media coverage on TV, to reflect our message or our opinions.
Many Americans, like you, me and all our friends, simply want to recognize that the vast majority of America supports our troops. Our idea of showing solidarity and support for our troops with dignity and respect starts this Friday - and continues each and every Friday until the troops all come home, sending a deafening message that.. Every red-blooded American who supports our men and women afar
will wear something red
By word of mouth, press, TV -- let's make the United States on every Friday a sea of red much like a homecoming football game in the bleachers. If every one of us who loves this country will share this with acquaintances, coworkers, friends, and family, it will not be long before the USA is covered in RED. And it will let our troops know the once "silent" majority is on their side more than ever, certainly more than the media lets on.
The first thing a soldier says when asked "What can we do to make things better for you?" is...We need your support and your prayers. Let's get the word out and lead with class and dignity, by example; and wear something red every Friday.
IF YOU AGREE -- THEN SEND THIS ON
If you don't agree DO NOT attempt to belittle someone who does and say it is an empty gesture!
-If our actions can make a difference then they are not empty gestures.
-If our actions bring comfort to someone then they are not empty gestures.
-If our actions console someone then they are not empty gestures.
-If our actions prompt someone to do something POSITIVE then they are not empty gestures.
An empty gesture is one that is made without thought or meaning behind it. An empty gesture is not seen. Not noticed.
Happily I think the Support thread has helped countless people involved in the military and their families. There are so many links to help people get started or to give them new ideas. Far more people look in and don't post than do post.
All praise and respect for those who served in the past,serve in the present and will serve in the future!
[THE FINAL
INSPECTION ](http://photobucket.com)
[The Soldier stood and faced God,
Which must always come to pass.
He hoped his shoes were shining,
Just as brightly as his brass. ](http://photobucket.com)
["Step forward now, Soldier,
How shall I deal with you?
Have you always turned the other cheek?
To My Church have you been true?"
The soldier squared his shoulders and said,
"No, Lord, I guess I ain't.
Because those of us who carry guns,
Can't always be a saint.
I've had to work most Sundays,
And at times my talk was tough.
And sometimes I've been violent,
Because the world is awfully rough.
But, I never took a penny,
That wasn't mine to keep...
Though I worked a lot of overtime,
When the bills got just too steep.
And I never passed a cry for help,
Though at times I shook with fear.
And sometimes, God, forgive me,
I've wept unmanly tears.
I know I don't deserve a place,
Among the people here.
They never wanted me around,
Except to calm their fears.
If you've a place for me here, Lord,
It needn't be so grand.
I never expected or had too much,
But if you don't, I'll understand.
There was a silence all around the throne,
Where the saints had often trod.
As the Soldier waited quietly,
For the judgment of his God.
"Step forward now, you Soldier,
You've borne your burdens well.
Walk peacefully on Heaven's streets,
You've done your time in Hell."
~Author Unknown~](http://photobucket.com) There is still a lot of good in this country and here is a very nice remembrance for those who served and are no longer with us. God bless the USA and for what it stands. Arlington National Cemetery at Christmas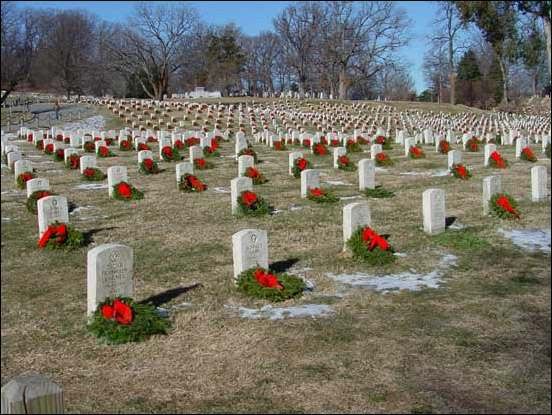 Rest easy, sleep well my brothers.
Know the line has held, your job is done.
Rest easy, sleep well.
Others have taken up where you fell, the line has held.
Peace, peace, and farewell.