tribute to nongardening family members
denisez10
(SoCal)
June 24, 2007
I can't think of who else would care about this stuff, so it gets posted here!
I've been playing with moss this summer for the first time and having too much fun. My infatuation with moss this season started with planting an old hay rack I've had for years, where I kept pots and supplies. Coleus, mission bells, sweet potatoes, etc. Didn't stop there, though.
This was finished yesterday, so it's fairly raw looking still. Feels like kindergarten again. Oldest son looked at creation and said, You told me to tell you when you're way over the top, and this is definitely OTT. Youngest son says, It's a planetoid. I approve. But exactly, I replied. My better half drops his own project, putting speakers in his '71 VW camper and says, Where do you want to hang it? How're we going to get the two halves together? Wire? Sure, I've got some. You've got chain? Great.
It's two baskets wired together, incredibly heavy. All the stuff was at hand including the succulents, which were pilfered from garden plantings and pots. Too soon to tell whether it's a monstrosity or way cool. But I wanted to let the string-of-pearls and the senecio fish-hook succulents display to their best advantage, spilling downward. It does swing around in the wind so all sides can be seen. The top half was supposed to be really spheroid, with tight, close texture of small succulents, and these plants may be too large. Would've been better to shop specifically for it, maybe using just hens-and-chicks, but I just HAD to dive in, this minute, now, now, no time like the present. It's a little too busy for my taste, but still a great way to grow succulents, out of reach of hungry snails.
I did this basket with Coco Loco coleus, sweet potatoes, aeoniums, oxalis a week or so ago, and it's still not knitted together. It sits on top of an urn which is kinda the focal point of the main bed (where the Euphorbia Tasmanian Tiger was grouped in a previous post). I really want to let these draping plants like sweet potatoes show their stuff. Sheets of chartreuse or burgundy is the idea. Surrounding the urn in the ground is Scabiosa Ace of Spades and white gaura, very monochromatic. This moss thing might prove to be a resounding dead end when the heat really kicks in, but boy was it a great time.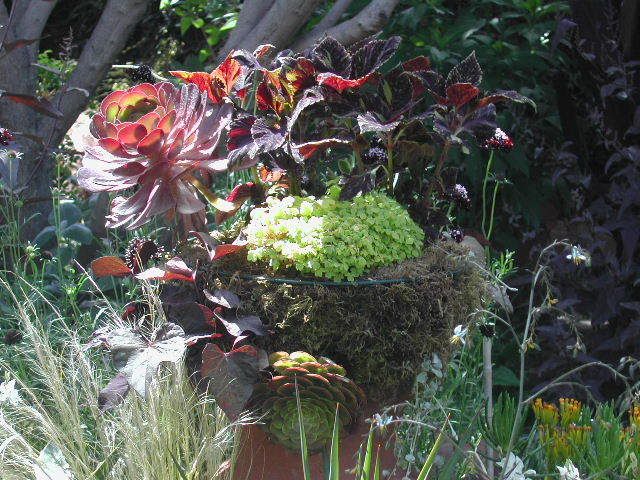 And this is a three-tiered spice rack that's been kicking around for years. Glad I saved it. Wanted a container that would show off the senecio fish-hook. Great plant. Very big into plant spillage this year, for some reason. Middle tier is the pest Erigeron kara-something, but very nice floaty effect here. Didn't want to bug anyone to help hang it, so temporarily propped it/wedged it on the boys old bunkbed ladder, where it miraculously stays perched and wedged. voila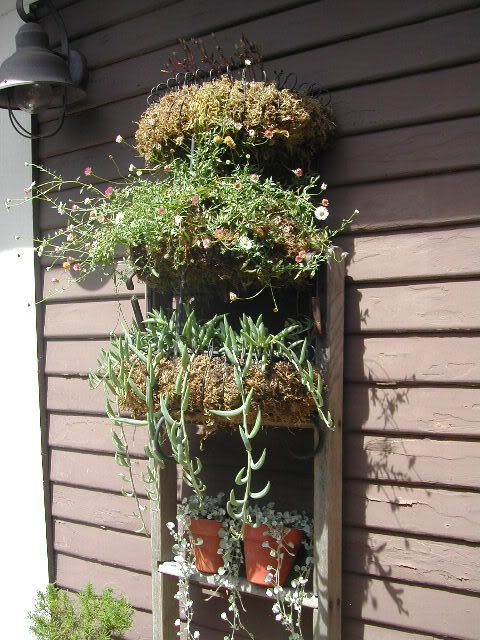 And I'll spare you the wee bulk-head light moss/succulent thingy I did! OTT indeed!