IU7 (LA to Napa)
denisez10
(SoCal)
June 27, 2010
My very first IU, and I'm still shaking my head over how seamlessly it ran. I arrive 10 minutes to 5 p.m. on Thurs and wander in the open door of a house with jasmine growing across the garage. Must be the place. Kathy and DD are bent over the stove stirring our wonderful meal. Everyone else arrives not long after. The next morning five cars strike out in search of gardens and all arrive within 5 minutes of each other. Meeting up for breakfast in downtown Napa not a problem. No one is lost or late. GPS, cell phones are the IUers best friends. Facebook pages are updated in the gardens.
Of course, the planning Kathy put into this trip was phenomenal and the reason it ran like a well-oiled machine. Here's a peek of our hostess' garden.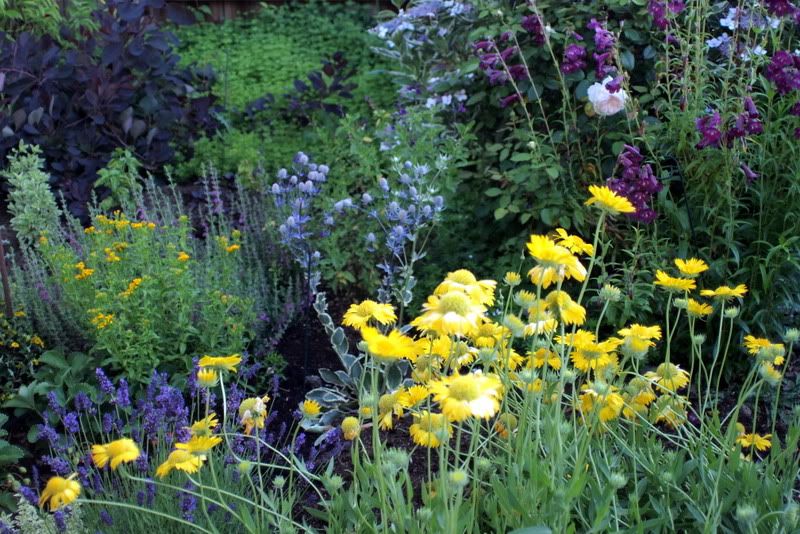 Les, Catherine, and Monique, with Drema wandering in the background.
Monique, Cindy & Kathy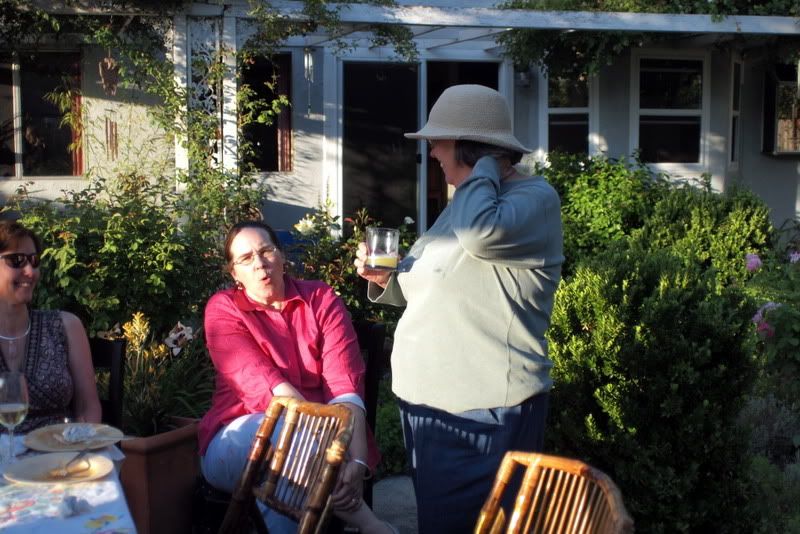 Saucy presents Kathy with a gorgeous cast leaf. A glimpse of the other corgi-owning Denise almost out of frame to the right.
Just a few pictures of the gardens. I'm sure more will be pouring in.
Woolly thyme and stairs at Boeschen Winery and gardens. A wonderful family-owned winery, the romantic gardens created by a master gardener buddy of Kathy. My two bottles of wine made it home safe, thank goodness. Liquid gold!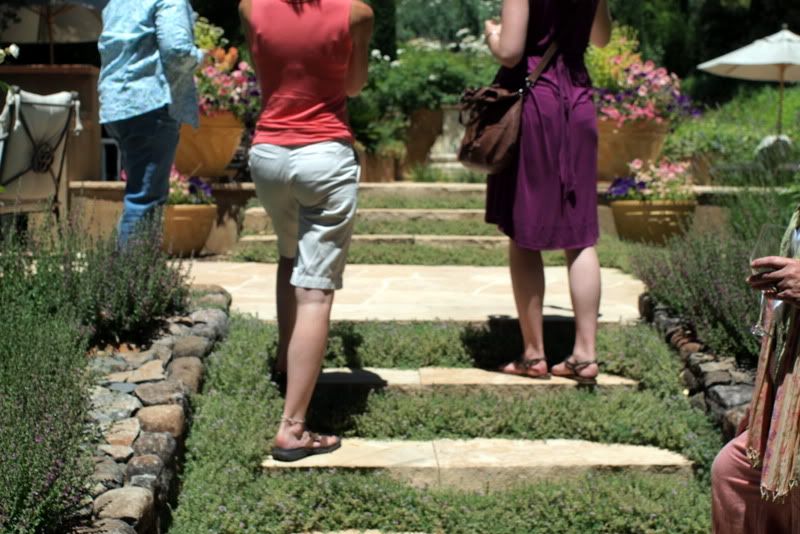 Filoli. Huge estate garden, very formal. Kathy's favorite room, the knot garden, was in full sun and no photos came out of the arabesques of deep red berberis, germander, lavendar, ballota. The huge trees were a joy to see. The massive Irish yews used for punctuation throughout the garden succumbed to some pest and were severely cut back. These little detail photos are like taking a photo of the toenail of Michelangelo's David but epic is not something my camera can capture!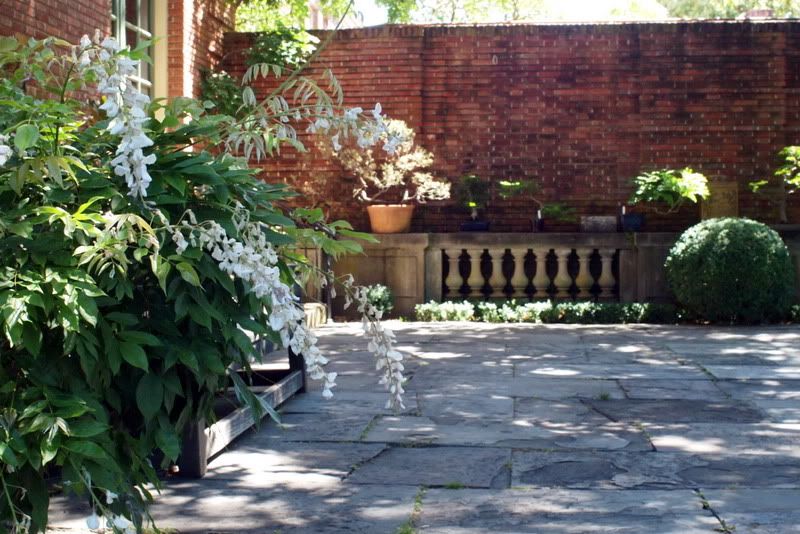 Bloom times in this part of Calif are so interesting. Pansies still look great, wisteria is just about bloomed out. Roses are in first or second flushes. Couple camellia blooms hanging on. Hydrangeas starting to bloom. Blooming plants really like it here! I'd never made the connection before that the Central Valley of Calif and up into Napa, huge producers of vegetables and fruit for the U.S., would obviously be a great place to garden. The right conditions for crops would of course be great conditions for flowering plants. Filoli really brought the point home.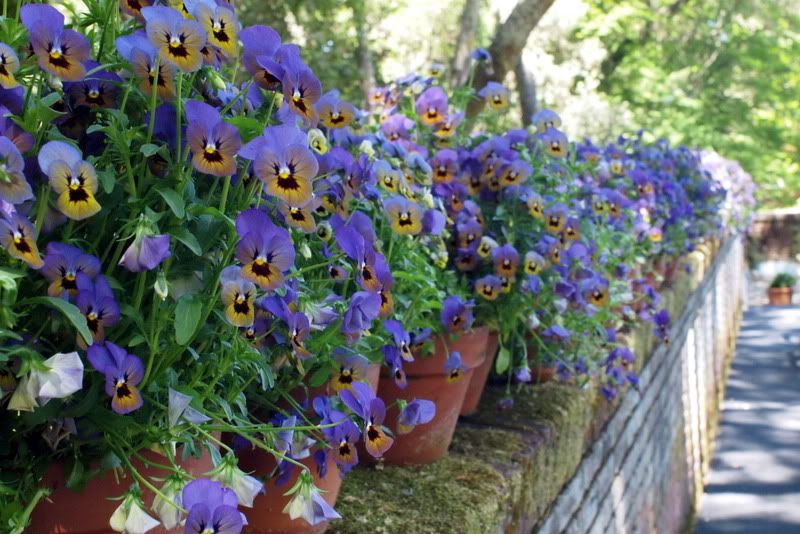 Keeyla Meadows' garden. Kathy will have to fill you in on this Bay Area artist/sculptor/gardener. Every surface of her garden is decorated with either paint or mosaic. Flower motifs in the designs are consistently childlike, celebratory. She is well known for her work in cast concrete but also works in bronze and who knows what other medium. The idyllers snapped up her book about being fearless with color, much of which was washed out of my photos by the strong afternoon sun.
Very healthy variegated Daphne odora and self-sown impatiens. This might be I. balfourii.
From an upper balcony off Keeyla's bedroom I photo-ambushed idyllers.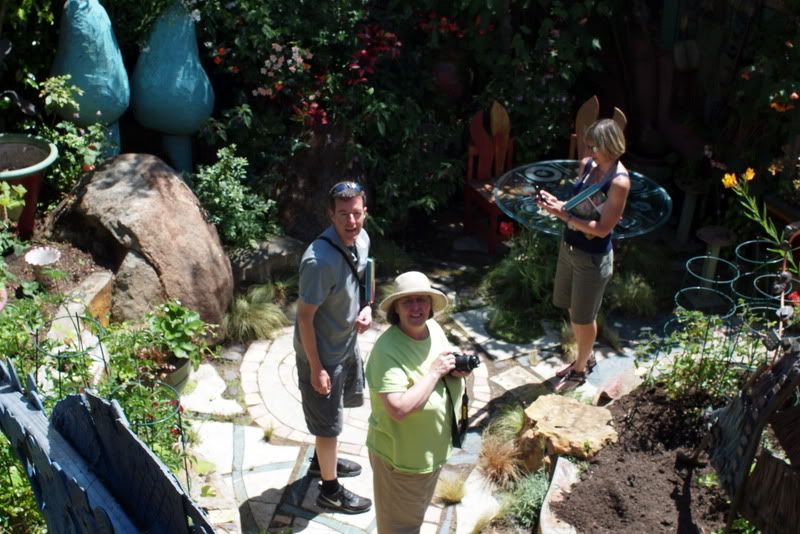 Our skydivin' friend Brenda. I hope her dear friend Diane finds the Rose Chiffon Calif poppy she so admired at Annie's Annuals (of which I have no photos. Impossible to carry plants and camera at the same time.)
Keeyla did not make this divine kitty pillow tho!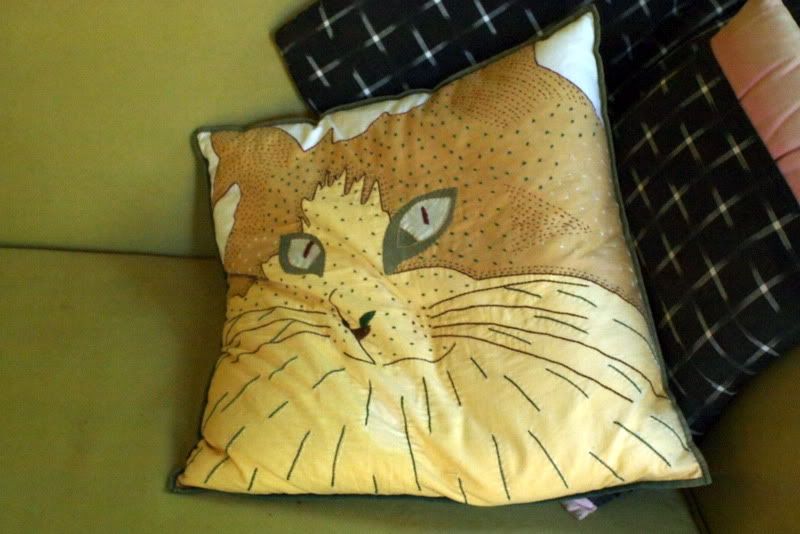 Cast bronze arch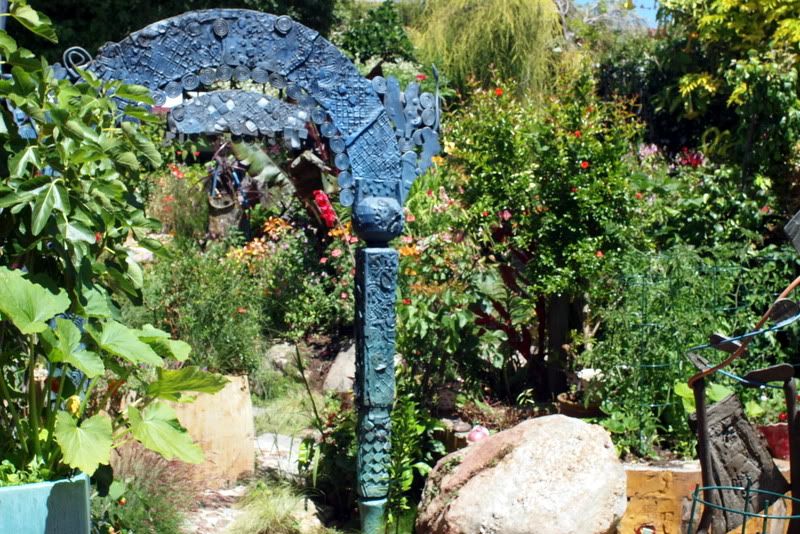 Mosaic bathroom wall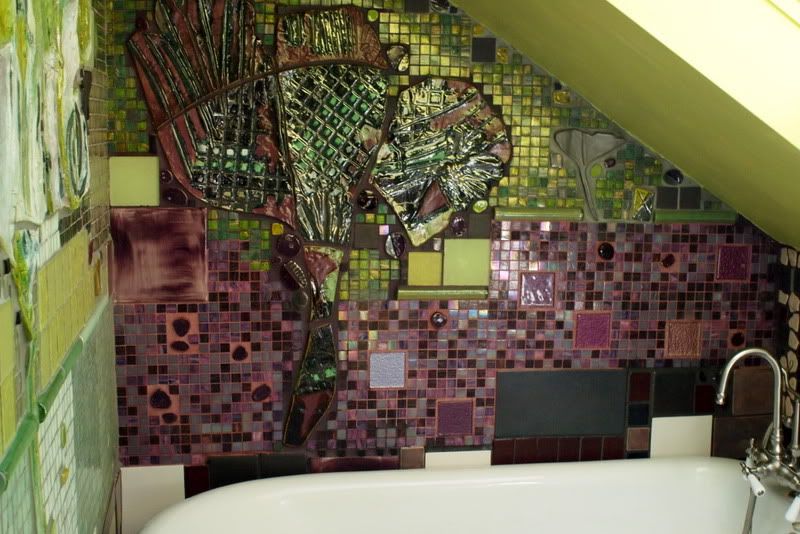 Keeyla was harvesting poppies and encouraged everyone to take some. I inquired about a rare calceolaria climber on the wall, and she said you'll never find it in nurseries so take a cutting (and I did, of course!) Amazing generosity.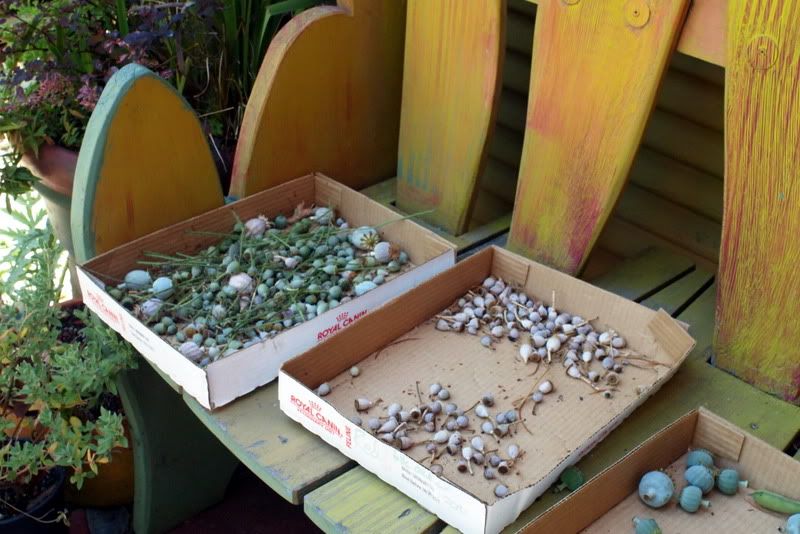 Big thanks to Kathy for being a fabulous IU hostess and to all the idyllers for being so friendly and welcoming. I owe my car buddy Drema some Angelica pachycarpa seed, so please remind me!