A Chimney Swift Emergency
chickadeedeedee
(z 6-7 ish Ohio)
August 12, 2010
We've been doing the usual insanity at Camp Nappy including having Chimney Swifts invade our chimneys as they have for at least the last decade. The larger chimney connects to the furnace via a duct system. This is the point of entry into the basement for some of the Swifts into the house. They come in, we catch them and send them on their way.
I was downstairs Sunday morning doing one of the daily the Swift-checks. When I got near the washing machine, I heard a faint flutter. Climbing up onto the washer I found a Chimney Swift that was wedged between a large glass jar and the wall. She must have been trapped there for days!
She was so thin, exhausted and weak. Her eyes were not open. She couldn't even hold her head up.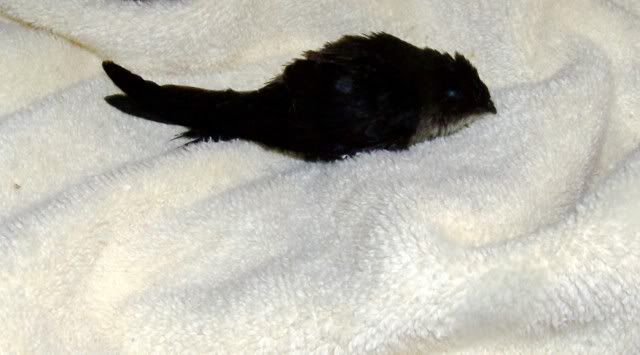 I gave her some water into her crop and made up a combination of baby bird cereal plus jarred strained turkey. I force fed her every 10 minutes. We went outside armed with butterfly nets and caught tiny gnats, mosquitoes and midges.
These poor little guys were placed into a jar with a little bit of water and shaken up a bit. (Sorry little flies!) Now they were immobilized and floating on top of the water. They were easily scooped out and added to the Swift cereal mixture.
Now at least she was getting some of a more natural food. While we were making up this new concoction, she opened her beautiful eyes! Ooooooooo! Maybe there is hope to save her life?!?!?
Now she was being fed every 10-15 minutes and she started to walk across the towel on the counter. Not wanting her to get hurt in a cage, particularly because of those long delicate wings, she was placed in the glass door enclosed bathtub on her towel.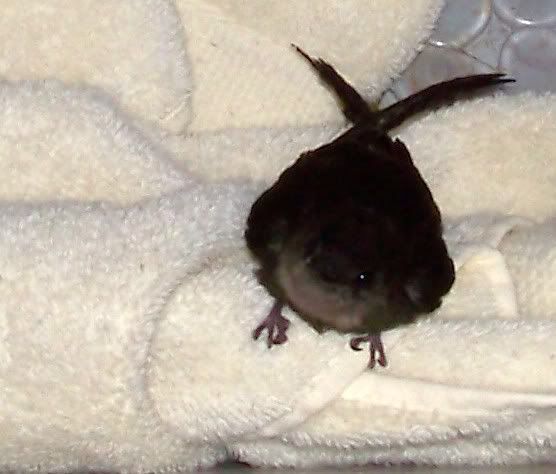 And then when I went to feed her she started to scream at me! She was definitely getting stronger! Two and a half hours after first being found on the shelf, she took flight in the bathroom!
WOW! I never expected such a swift recovery! LOL! We thought to keep her for a few days and get her strength built up even more. That was the plan but she had other plans.
We kept feeding her at 30 minute intervals throughout the night. She would no longer stay inside the glass enclosure but kept flying around the bathroom in the morning. Not wanting her to get injured in her need to get out, we stuffed her crop once more gave her a kiss and sincerest apologies for not having found her earlier and she flew off.
She looked soooo strong in her flight. She is VERY thin but we think she will be able to fatten up with all the insects we have around. If needed, she can always rest in the chimney. She has VERY good grip strength! Swifts and their kind are VERY difficult to maintain in captivity, not only because they catch insects on the fly, but they can easily damage their looong delicate wings.
I'm sooo happy she recovered. I feel soooo bad that she was missed during the swift checks! Will need to do a better job so this never happens again!
Here's more information about our ~guests~ :