Let me introduce my new lawn mowers....
sheepco
(MN z4)
September 1, 2009
Missed you this summer! But I'm baaack :)
Last fall I sadly bid good bye to my little flock of ewes - but they went to a friend (whose had livestock all his life), with 3 children from 5 to 12, that had just bought a place in the country. They are only 5 miles from me and living the good life, part of a real hobby farm with ducks, chickens, turkeys, a steer, cats and 2 bull dogs. I have visitation rights, and enjoyed helping with the lambing this spring.
I worried that Herb would miss his girls, but had one old ewe too old to sell that was Herb's constant companion (and portable heating pad) for the winter.
Knowing the old girl's time was near, and watching the grass grow lush this spring I knew a new lawn mower (and companion for Herb) was necessary.....
Meet Echo (sort of given a 2nd chance), my new mini.
36" at the withers (top of the shoulder) he's a cutie. His previous owner was retiring and thought he would have to put him down because his feet were so bad. But my boss trimmed him up and said he wouldn't be lame so I got him for the price of a hoof trim. He needs some more hoof work, but he's a joy. Broke to drive, easy to work with...ahhh the smell of horse....I'd forgotten! It's been 30 years since I've had horses!
So after the first meeting...when they looked at each other and said "Eeekkkkk, what is that!" and ran in opposite directions; the old ewe, and the cat, and the mini became friends.
Shortly the day came when Lizzy the sheep could no longer get around and she was peacefully euthanized. Herb rubbed up against Echo's legs, but Echo started pacing the fences and I realized he would not be happy alone....so back to the retiring farmer....
Meet lawn mower #2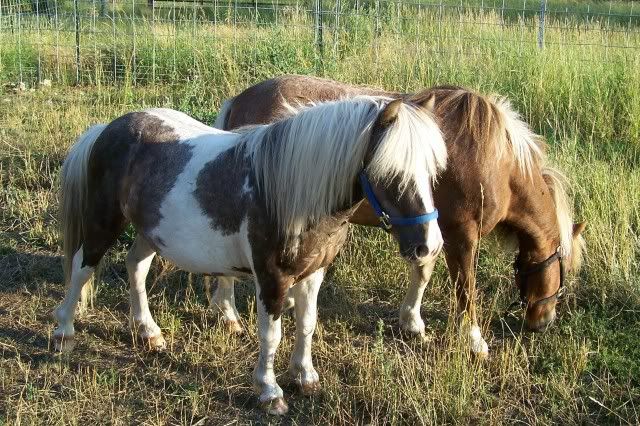 Crazy....I named him that after I had to ride IN the trailer with him on the way home to keep him calmer. He's 33" at the withers and has very few manners - this retiring farmer was more into breeding than handling the horses much - I know he cared about them, but spent more time on the ones he was selling for driving and shows.
Anyway, my 2 new minis are great lawn mowers, and when I drive into the yard now they come trotting up to the gate for treats! Crazy is taking some work, but hopefully when the farrier comes back in October we'll actually be able to trim his back hooves too!
And Herb is a happy kitty, he hangs out in the shade with "his boys", rubbing against their legs 'til they'll nuzzle him. He not really a cat...wonder what he was in his previous life?