HSDM rocks! Meet my new team!
sheepco
(MN z4)
September 23, 2009
I am humbled by what I learn from Hearing & Service Dogs of MN and the clients I am honored to be allowed to help train every time they call me to help out out here in the "sticks" - too far for trainers in the Twin Cities to drive to 2 or 3 times a week. HSDM continues to provide dogs that are either rescued from the Minneapolis/St.Paul area pounds and given new jobs to do or donated from breeders with a life of service in mind, and go to their new life partners free of charge, after months of training.
Meet Earle, an active high school teacher, husband and father with brittle Type I Diabetes, and Belle, a 20 month old Golden Retriever Diabetic Assist Dog. They completed their Certification last month!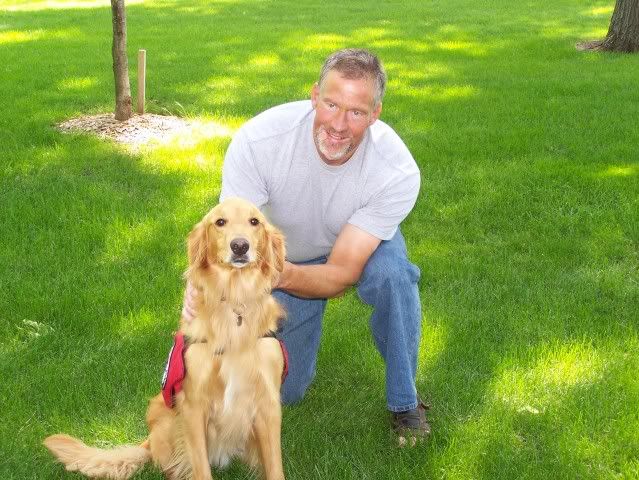 Belle came fully trained to do all the assistance stuff (open doors and drawers, push handicap door and elevator buttons, retrieve ANYTHING including a dime off the floor, etc) and be a perfect lady in public. Once in his home we trained Belle to recognize the scent of Earle's body when his blood sugar dropped and to alert him so he would know to test his blood and take care of himself. Earle could no longer feel these dangerous low coming on his own. She will also go get help, or go get the phone if Earle is so low he can't respond properly. Earle's wife says Belle has changed their lives.
What an amazing adventure to be a part of! Believe it or not, one of our biggest hurdles was trying to get Belle to keep doing her job and ignore little kids! She's a golden - she LOVES kids!
No kudos for me please, the organizations that do this, and their fabulous trainers, and generous donors are to be thanked.
As HSDM says: We envision a future in which every person who needs and wants an assistance dogs can have one.
I pray for the day that will be true.
S
Here is a link that might be useful: Hearing & Service Dogs of Minnesota