New Home Owner, Front Lawn looks terrible
Hello everyone. I'm a new home owner and would really appreciate any advice you guys can give me. I currently live in Northern Virginia. I've done some research and understand how to maintain a great lawn, but have no idea how to revive it from its current poor condition. Is my lawn salvageable?
I moved in August and the front lawn was mostly crabgrass and weeds at the time. I unfortunately I used weed-b-gone during one of the hottest weeks and it basically killed where ever I sprayed. (I used it in random areas, not the whole lawn). I have not done any other treatment besides the occasional watering. Fast forward to now and as you can see in the picture, most of whats left is dead crab grass and weeds. I understand it is late in the lawncare season but what steps can I take now and next few months to ensure my lawn is in better shape next year?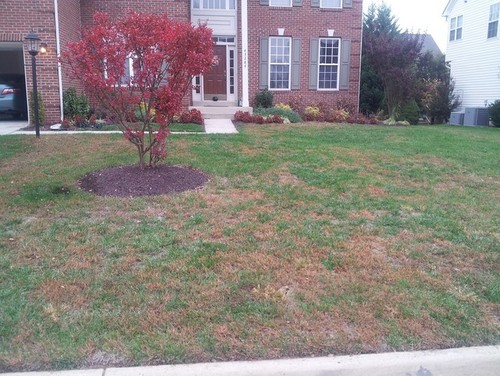 This post was edited by TaekwonV on Thu, Oct 31, 13 at 10:08