This Years Pond Netting with Winter in Mind Pics
goodkarma_
(5b)
October 2, 2008
Hello Ponders,
This year I decided I needed some kind of fencing to keep the dogs from walking on the frozen pond. So I am going to use that plastic orange fencing. I am using the metal posts that you sink in the ground and usually adhere chicken wire to,but you can use the plastic fencing too.
I bought the 5' metal posts for about $5 a piece and I also have a couple 6' ones. So I set them around the perimeter and strung vinyl rope in a criss cross pattern across the pond.
Placed the netting over and it is done. 45 minutes total and that included repairing the netting with savio springflow to sew the holes togheter. In the winter I will put the solar cover on the water and a small pump thru the skimmer and hopefully it will be done. That and putting the plants in the bottom of the pond.
Settling Pond:
Footprint for new Veggie Filter Next Spring:
Cardinal Flower in a strange place to be: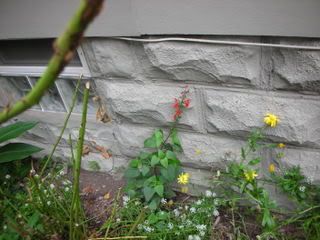 Happy Ponding,
Lisa