My First WaterGarden - 22 Gal Padio with Fish/Lilys
syntria
(8a - South DFW Area)
March 13, 2014
Hello!
This is my first time posting in this area of the site.
I just started my first water garden, with 3 water Lilly (two minis and one large), aquatic mint, and chameleon plants as well as a few comet gold fish. I have a small bag of activated charcoal in the water to keep it clear and a pump to provide aeration and prettiness as well as an underwater solar powered LED that seems to be working great so far. The container is 22 gal, and with all the materials in it I assume there's only about 12-15 gal of actual water.
I'm going through and reading the FAQ and other posts now just to get more general information so I can curb any potential problems before they start--but do you guys have any advice for this newbie?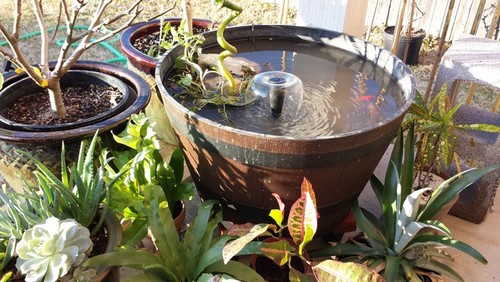 Here is a link that might be useful: My Garden Vlogs
This post was edited by Syntria on Thu, Mar 13, 14 at 13:31